A fly fishing net is the most overlooked equipment that you need for fly fishing. We spend a lot of money and time choosing the best fishing rod and reel for us but pays very little attention when it comes to buying a fishing net.
Some of us even do not know the importance of using a fishing net. For those of you who do not know, you need a fishing net to catch and keep the fish as fresh and unharmed as possible. You do not want to catch a fish with your dry bare hand, right? That's why you need a fishing net.
There are tons of fly fishing rods out there. Some of them have a long handle, some of them have a shorter handle, some of them have come with a shallow net, and some of them have a deep net.
Depending on where you are going to fish, choose your fishing net.
So, allow us to help you with this. Here are the best 7 fly fishing net available for you in the market. Well, you can use them use on any other types of fishing as well. As most of them are multi-functional.
1) PLUSINNO Fishing Net Fish Landing Net, Foldable, Collapsible Telescopic Pole Handle, Durable Nylon Material Mesh, Safe Fish Catching or Releasing Review
If you are searching for a fly fishing net, then look no further. Plusinno fishing net is hands down the best fishing net for the fly fishers out there. Why it is best? Well here are the reasons.

First of all, the material that it is made of is top-notch. Its pole is made of high-density resistant carbon fiber mixed with fiberglass. The mesh that it uses is made of nylon. And guess what? So it is waterproof. So you no matter how long you are going to use it in the water, it won't make it waterlogged.
Often we see that, after a long day of fishing, the net starts to spread a bad odor. So to avoid that problem, they used waterproof nylon mesh.
One of the reasons people love this fishing net is that it is not at all heavy to carry. You can carry it. Moreover, it is designed to carry easily. There is a special belt clip for that.
There are 4 different variations of this fishing net with different hoop sizes. They are 12,16, 16.2 & 20 inches. Depending on which type of fish you are catching you should decide which size of the net you are going to get.
This net is telescopic. So, it has the folding option. You can fold and unfold it whenever you need to carry or use it according to your need.
How to fold it?
Push the button downwards
Bend the hoop sideways (either left or right).
Fold the net and the pole
Make necessary adjustments
The net is safe for catch-and-release fishing. Lightweight, safe, and easy to use. Even a kid can use it without any problem.
2. SF Fly Fishing Landing Net Soft Rubber Mesh Trout Net Catch and Release Net Review
Sf Fly Fishing net is one of the very best fly fishing nets available on market. Thanks to the magnetic quick-release option. The material used to make the frame is laminated bamboo and hardwood. Which makes it durable and comfortable and solid grip at hand.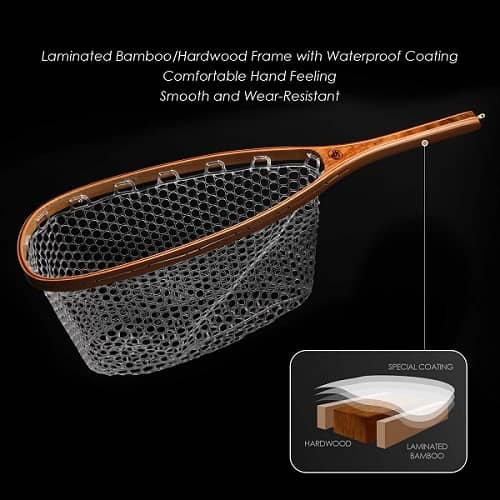 The handle is about 9 inches long. And as for the hoop, it is 9.5 inches by 16 inches. From the frame to the center of the net, it is 9 inches deep. The laminated finish helps a lot when you are in a competitive sports ground to catch and release the fish. It makes it quite easy to balance.
The mesh is of soft rubber. And when you drown it in water, it completely disappears.
And of course, the net is waterproof. So no matter how much time you keep it in the water for fishing, it is not rotting or water logging. It is also UV protected.
There is also a safety right at the end of the handle that you can attach to the lanyard. Besides, it floats on water like a cork. So you won't be losing it in the water while fishing
Though the net is extremely durable and laminated wooden finish, it is quite light.
3. Wakeman Fishing Retractable Rubber Landing Net – 35 Inch Handle Review
Wakeman fishing net is one of the best-selling fishing nets out there. It is popular among anglers for good reasons. This fishing net is made of plastic rubber. And as for the handle, it is made with aluminum. The net is 20 inches long, 19 inches wide, and 17 inches deep.
It works really well for catch and release. There is no issue with the net getting tangled up.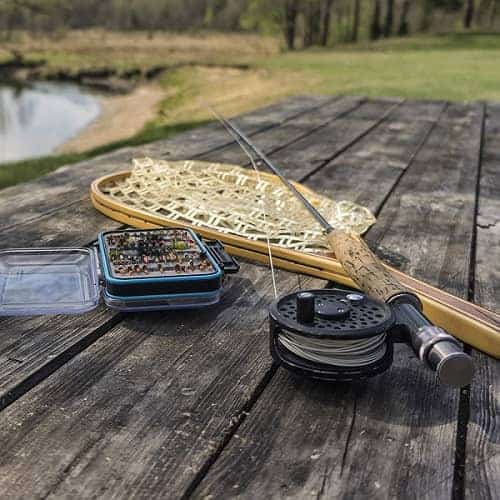 The full length of the net is 56 inches and the aluminum handle is about 35 inches long.
You will have a good grip and balance to hold this fishing net. And if you want you can also catch frogs with it. But since it is quite large, it would be difficult to swing it that way.
You can catch a 40lb weighed fish without any problem at all.
4. NetAngler Fishing Net, Fly Fishing Net with Magnetic Release, Fish Landing Net with Wooden Frame and Soft Rubber Mesh for Trout Fishing Catch and Release Review
Netangler Fishing Net is made with smooth rubber mesh. So when you sink it underwater, it almost disappears. More importantly, it does not harm your fish. It won't tangle like most other fishing nets. So no worries about that as well.
As for the handle and the body of the net, that is made with a smooth coating of solid wood laminate. So you will feel it much easier and more comfortable to hold and use it.

The net comes with a copper swivel to attach it with bags or fishing vests or anywhere you feel like it. That way you won't have to carry it with your hand. You can keep it close to you all the time.
The length of the NetAngler Fishing Net is 20.7 inches, the width is 10.63 inches, the hoop length is 12.2 inches, and the depth is 9.8 inches. The handle of it is about 8.5 inches.
The frame has a laminated solid wood coating and a smooth rubber mesh. So the wood frames won't mold or rot.
5. EGO S1 Genesis Floating Fishing Net, Fishermen's Tool, Salt& Freshwater, Non-Slip Grip, Compact Storage, Lightweight, Removable Net, 30+ attachments review
This Genesis Floating Fishing net is different from others. The handle of it fixed, however as for the head parts, there are 30+ attachment comes with it. Sounds interesting? Let's dive into it then.
One of the core features is that it floats on water. Let's be honest, we all had this type of experience of losing the fishing net in the water, right? Well, since this net can float on the water you don't have to worry about that anymore. They have built it that way.

The mesh is tangle-free meaning it won't tangle up no matter where or how you keep it. And also its handle is quite comfortable to hold on to. As we all know, while we are fishing our hands are oftentimes wet and it is so easy to slip anything we hold. That is why they innovate non-slip grips for it.
The net is made by Ego. one thing to mention is that they are very confident about their product. So much so that they provide 30 days money-back guarantee. That means, if you want to return it and take back your money, they won't ask any question about that. Yes, they are that much confident about their product.
It is very lightweight. It weighs around 1pound.
6. ForEverlast Inc. Generation 2 Non-Snag Floating Fishing Landing Net for Wade Fishing, Fly Fishing, Kayak Fishing, G2 Pro Net Review
Since this net also comes with the feature that allows it to float on the water, you do not have to worry about losing it. The net size of it is quite large, so you can hold every kind of fish that you will catch inside and won't have to worry about that.

You can keep holding it for a long time without hurting your arm, as it is quite lightweight. And you can attach it with your fishing backpack or your vest, which will keep your hands free for the time being. There is a cord at the end of the handle.
The rubber coating finish of the net is not only durable and long-lasting but also keeps the fish safe and secure. The long handle comes with an excellent grip on it.
This fishing net even won the ICAST Best of Show Fishing Accessories award in 2013.
7. PLUSINNO Fly Fishing Net, Wooden Frame Fishing Landing Net with Magnetic Release, Soft Rubber Mesh Net for Trout Bass Catch and Release, Magnetic Fly Fishing Gear Review
This fly fishing net has a magnet release system, so it is ideal for catch and release. The solid and sturdy wooden handle makes it easy to grip and balance the net while holding it for a long time. The varnished camphor-wood handle is waterproof, so you do not have to worry about anything.

Since it is lightweight you won't feel it difficult to carry while sporting. It weighs around 210 grams.
The width of this net is 11 inches, the length is 15 inches, the handle's length is 7 inches and the depth of the net is 11 inches.
You can use it for ice fishing, kayak, boat, wade, stream, or any time you travel outdoor.
Fly Fishing Net Buying Guide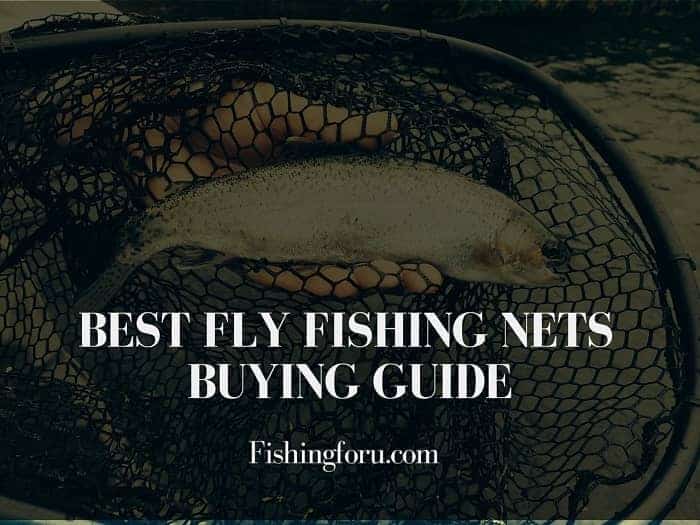 There are many factors important for a net. But even among them, these are very crucial.
You should not pick up a heavy net. For it will be harder for fly anglers to hold onto it with one hand for longer. That is why the 7 fishing nets that we chose for you, all of those are lightweight and thus easy to carry.
The net and the handle of it should be strong enough to withstand the flapping of a medium or large-sized fish. If it is not strong enough, it will break right when you are landing the fish.
If your net is not deep enough, then you will not be able to hold the biggest fish that you catch in it. Therefore, the net should be deep enough to hold the fishes.
Mesh material
The netting material is crucial for a net. Why? because if it is built with cheap materials, it will tangle and even rot if it stays a long time in the water. Rubber is the preferred material here.
Floating ability
If the net comes with a floating feature, then you won't have to worry about it sinking in the water. It will stay on the surface water.
Frequently Asked Questions (FAQs)
Conclusion
Now that you know about these 7 excellent fly fishing nets, you should have a good grasp of the topic. But if you are still about which one you should pick, here are our recommendations.
If you want the best fishing net, PLUSINNO Fishing Net Fish Landing Net is the right choice for you. The build quality and durability make it incomparable to any other net available.
If you are searching for something simple, then choose SF Fly Fishing Landing Net Soft Rubber Mesh Trout Net.
If you have any question or suggestion on this topic, feel free to share in the comment section.