What's a fishing reel? A fishing reel is a tiny gadget attached to the end of the fishing rod. It helps the angler in winding, stowing, and retrieving the fishing line.
A spinning reel is a special kind of fishing reel. It's an open-faced reel with a transparent spool attached to the downside of a fishing rod. It's usually used in a spinning rod. Anglers use it for artificial flies or lures.
Spinning reels were initially designed to use artificial flies for fishing. Because the artificial flies and lures are not as heavy as it needs to be for bait casting reels. Daiwa BG spinning reel is a Saltwater fishing reel. It has become anglers' one of the favorite saltwater fishing reels over the years.
Daiwa BG spinning reel is one of the top-class spinning reel brands. We highly recommend you this brand. Is it really worth the price and the praise?
Well, there are reasons for our recommendation.
Today, we're going to find out answers to these questions.
Daiwa's first product
Daiwa's very first product was Daiwa Black Gold. It was first released in 1981. As the black gold got remarkably admired by people later in 2016, they released the newest version of it as the Daiwa BG saltwater fishing reel.
With Daiwa's sturdiness and durability, it has been among the top favorite fishing reels for anglers for years. Moreover, it's affordable for any average fisherman. And its impressive features and qualities make it worth the price.
About Daiwa BG Spinning Reel
Let's learn a bit more about this Daiwa BG saltwater spinning reel in detail.
Daiwa BG spinning reel is designed simply with great functionalities. Its simplicity makes it more reliable and solid. It comes with pretty detailed and splendid features.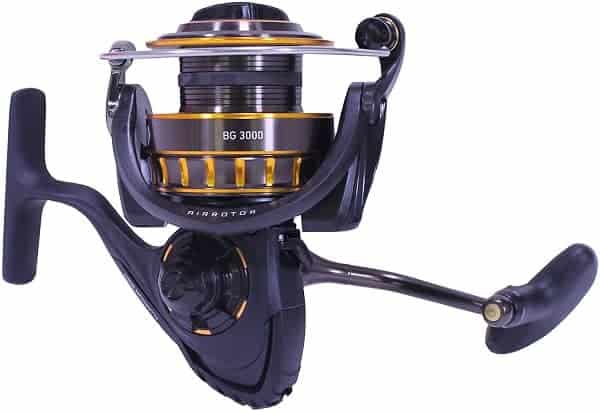 Daiwa BG Models and Sizes
Daiwa BG spinning reel comes in 10 models. These models differ from freshwater ultralight actions to saltwater-heavy big game types. The size range of the reel is 1500 – 8000. The models of Daiwa BG are –
BG1500
BG2000
BG2500
BG3000
BG3500
BG4000
BG4500
BG5000
BG6500
BG8000
Categories
These models are divided into three categories based on their sizes. Small, medium, and large. (Shown in the chart below)
| Reel Size | Reel Model | Common Applications | Suitable Fish Species |
| --- | --- | --- | --- |
| Small | BG1500BG2000BG2500BG3000 | They are mostly suitable for light fishing. Perfect for lakes, rivers, bays, harbors, etc. Model 2500 is perfect for bass fishing. | Whiting, flathead, trout, bass, bream, perch, luderick, etc. |
| Medium | BG4000BG4500BG5000 | The medium-sized reels are suitable for lakes, rivers, bays, harbors, light offshore boat fishing, etc. | Mulloway, BoneFish, Drummer, Tailor, Morwong, snapper, Mangrove Jack, barramundi, drummer, cod, the, etc. |
| Large | BG6500BG8000 | The large-sized reels are generally used in offshore fishing like beach or rock fishing. | Aust Salmon, Kingfish, Samson Fish, Morwong, Tailor, Cod, Snapper, Mulloway, groper etc. |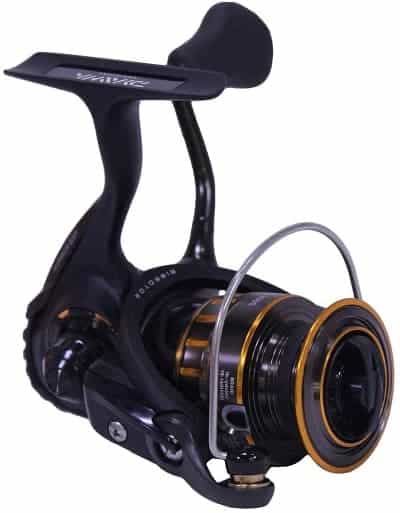 Reel Body Construction
The Daiwa BG spinning reel's body is made of black anodized machined aluminum. Besides, its "Hard Bodyz" black anodized finish gives a sturdy protective layer over the aluminum housing. Its black anodization improves the resistance against corrosion and scratches.
There's no major difference in the characteristics and qualities between Daiwa's less expensive and more expensive reels. It also possesses a waterproof carbon ATD drag system, air rotor, and smooth retrieve.
Aluminum Reel Handle
The aluminum handle is designed in the screw-in design. It's large and easy to grip and works very smoothly. Besides, the tightened-down handle arms help you to hold onto the rod strictly so it doesn't get slippery when you're fighting a fish.
Because of the screw-in system, the main gear and the handle are firm and steady. As a result, the fishermen find it comfortable to crank the handle while fishing.
Oversized DigiGear System
Daiwa BG offers an over-sized digger system. It lets the reel have more teeth. Thus they can come in contact with each other at any time. As a result, the reel's retrieve rate gets smoother and the gear life span gets increased.
Digigear system assures an increased torque and provides lots of power while catching a large fish. The Daiwa BG spinning reel has 3 different gear ratios. The gear ratios are 5.3:1, 5.6:1 & 5.7:1. As a result, it can manage a variety of lures and flies.
Stainless Steel Ball Bearing
The ball bearings of the Daiwa BG spinning reel are made of stainless steel. There are 6 plus 1 ball bearings in this reel. These ball bearings are anti-rust so there's no need to worry about your reel getting rusted.
However, the ball bearings can't protect your reel from the water. Because the bearings are sealed in a regular kind. This won't be a problem if you're fishing in freshwater. In general, you have to be careful about the water entering the reel.
Carbon ATD drag
The maximum drag of Daiwa BG is usually 15.4. Though, different Daiwa models have different maximum drags.
Daiwa BG saltwater spinning reel consists of a carbon ATD tournament drag system. It's composed of a series of cross-cut carbon fiber washers. These carbon fiber washers ensure a very smooth drag from the very first time you set the hook.
The best thing about the ATD is that you won't feel any shakiness in the reel which is unlikely for the inexpensive reels. According to the models and sizes, the range of their max drag is from 4.4 lbs to 33.06 lbs with a 1.1% initial drag start-up inertia.
The drag has excellent improved grease and is strong and smooth. Moreover, the Daiwa BG reel provides a waterproof sturdy drag system. It gives the anglers a comfortable experience because it's easily adjustable.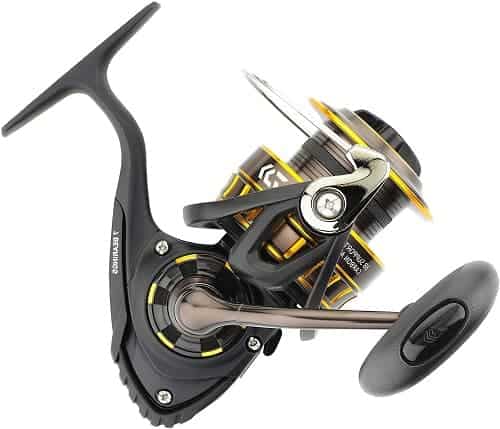 ABS Spool
Daiwa BG spinning reel comes with a dynamic cut aluminum ABS spool. It's also braided line-ready. There's a rubber ring located at the center of the ABS spool. Impressively it helps you to go straight to the spool with the braided line without needing to back with mono.
You can also fill the spool with a line up to the edge of the spool lip without worrying about it getting twisted. You can enjoy a longer and easier casting because the ABS prohibits casting friction. The large spool diameter drifts openly in big coils. It also creates less line memory coil.
Air Rotor
There's an air rotor system in Daiwa BG saltwater fishing reel. The rotor weighs about 15% less than generally designed rotors. But that doesn't stop it from distributing the stress across the entire reel making the reel a perfectly balanced one.
The extraordinary design of this air rotor reduces undesired weight from the rotor. This provides the rotor maximum strength. Moreover, there's also a rotor brake that stops the rotor turning when the bail is open.
Fish Species
You can catch any kind of species with Daiwa BG spinning reels. There are different models of Daiwa BG as we discussed above. Different sizes of spinning reels are suitable for different types and species.
You can fish in small trout streams and also do larger inshore saltwater and deepwater species.
The small size reel is suitable for whiting, flathead, trout, bass, bream, perch, luderick, etc. And the medium size is perfect for Mulloway, BoneFish, Drummer, Tailor, Morwong, snapper, Mangrove Jack, barramundi, drummer, cod, etc.
The large size of the Daiwa BG reel usually helps to catch Aust Salmon, Kingfish, Samson Fish, Morwong, Tailor, Cod, Snapper, Mulloway, groper, etc.
Here is a detailed chart of the Daiwa BG saltwater spinning reel with the necessary information of each model.
| Model | BG1500 | BG2000 | BG2500 | BG3000 | BG3500 | BG4000 | BG4500 | BG5000 | BG6500 | BG8000 |
| --- | --- | --- | --- | --- | --- | --- | --- | --- | --- | --- |
| Line Capacity (mono) (yds/lb) | 4/1556/1008/80 | 6/1358/11010/90 | 6/2108/17010/140 | 8/24010/20012/170 | 10/24012/21014/170 | 10/30012/26014/210 | 14/35017/28020/210 | 14/47017/38020/280 | 20/37025/31030/260 | 20/55025/44030/370 |
| Line Capacity (braid) (yds/lb) | 8/22010/13015/100 | 10/16015/13020/110 | 15/19020/17030/120 | 15/28020/24030/190 | 20/31030/23040/150 | 20/37030/28040/200 | 40/34050/27065/230 | 40/48050/36065/310 | 50/55065/44080/330 | 50/73065/59080/440 |
| Line Retrieve (In) | 28.3 | 29.5 | 33.2 | 37.4 | 38.5 | 39.9 | 43.1 | 47.4 | 48.7 | 53.3 |
| Gear Ratio | 5.6:1 | 5.6:1 | 5.6:1 | 5.6:1 | 5.7:1 | 5.7:1 | 5.7:1 | 5.7:1 | 5.3:1 | 5.3:1 |
| Ball Bearings | 6+1 | 6+1 | 6+1 | 6+1 | 6+1 | 6+1 | 6+1 | 6+1 | 6+1 | 6+1 |
| Maximum Drag (lbs) | 4.4 | 4.4 | 13.2 | 15.4 | 17.6 | 17.6 | 22 | 22 | 22 | 33 |
| Weight (oz) | 8.5 | 8.5 | 9.3 | 10.8 | 14.1 | 14.3 | 22.0 | 22.2 | 29.5 | 30 |
Features of Daiwa BG
Black Anodized Machined Aluminum Housing ("Hard Bodyz" Body & Side Cover).
Carbon ATD Drag System.
6BB + 1RB stainless steel, aluminum, antirust, and sealed ball bearings.
Infinite Anti-Reverse System.
Infinite Dual Anti-Reverse System.
Solid machine aluminum screw-in handle.
Air rotor.
Dynamic Cut Aluminum ABS Spool.
Braided Line Ready Spool.
Over-sized Digigear System.
BG Series 4500 and above have a manual trip bail for durability.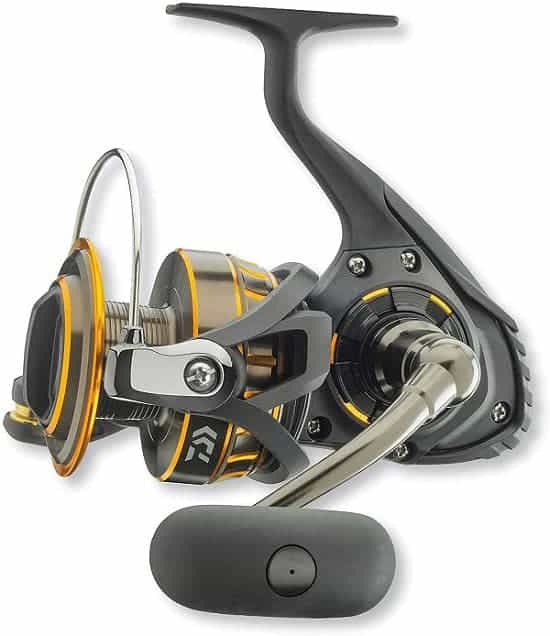 Pros & Cons of Daiwa BG
Pros
Cons
Smooth and ComfortableStrong anodized body.
Durable and strong maximum drag.
Doesn't backlash much.
Soft and smooth handles.
A bit heavy.

Daiwa BG's Price
Daiwa bg saltwater spinning reel's price range is $100 to $200. Clearly the price varies for different sizes of reels. For example, the BG1500 model costs less than $150 usually. Whereas the large size reels might cost more.
Check here the current price at Amazon.

Daiwa BG's Alternatives
Looking for alternative spinning reels for the Daiwa BG isn't so hard as there are a few other top-listed spinning reels out there. There are some spinning reels that share similar features and characteristics.
Here are 2 great alternatives for Daiwa BG spinning reel.
Penn Battle II Spinning Reel
Whenever Daiwa BG gets mentioned the name of Penn Battle automatically comes to mind. Because Penn Battle is a quality reel and similar to Daiwa BG in both popularity and price range.
We have a comprehensive review of Penn Battle II Spinning Reel. Feel free to check that out, if you are looking for an alternative.
And, we made a comparative analysis between Penn Battle II Spinning Reel and Daiwa BG Spinning Reel.
Okuma Azores Spinning Reel
Okuma Azores is another outstanding spinning reel that can be considered as an alternative for the Daiwa BG reel. It can resist corrosion. Furthermore, despite having the sizes starting from 4000 they provide more drag (28 lbs for 4000 size).
There are some other alternative spinning reels too such as Shimano, Kastking, Pflueger President, and so on.
Why should you buy the Daiwa BG Saltwater spinning Reel?
The Daiwa BG spinning reel is unquestionably one of the top-quality saltwater spinning reels. Its stability, smoothness, and noble features have impressed so many anglers for years. It's one of the most recommended spinning reels.
The price range of Daiwa BG is affordable. Though, it might be a hustle for a limited budget. However, with years of great service and longevity, Daiwa has proved that they're worth the price.
It's not only suitable for multiple fishing purposes but it's also comfortable to fish with. You can go for hours fishing with it and still not face any trouble. Therefore, you should definitely give it a chance.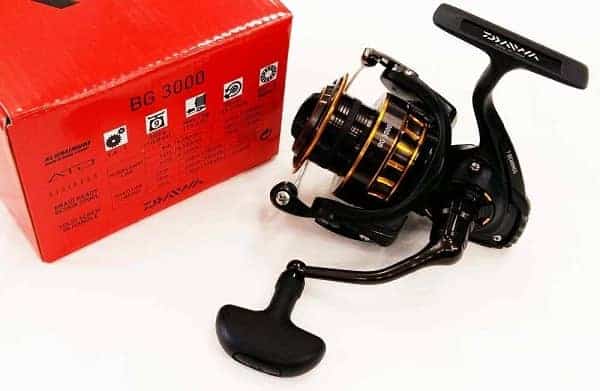 Frequently Asked Questions
Are Daiwa reels any good?
Daiwa BG spinning reels are great for fishing both inshore and offshore. Its different models allow you to catch various species of fishes. The features and characteristics are also quite admirable. u003cbru003eWithout any doubt, Daiwa has done a marvelous job with their spinning reels. They're also highly recommended by experienced anglers.
Which Daiwa reel is best?
Daiwa has many quality reels. All of them are quality reels and advantageous for you in some way. Here's a list of some best Daiwa reels.u003cbru003eu003cstrongu003eDaiwa BG – Great value for moneyu003cbru003eDaiwa Saltist – high rated Daiwa spinning reelu003cbru003eDaiwa Saltiga 20 – New 2020 modelu003cbru003eDaiwa Exist LT – Great for Daiwa premium technologyu003cbru003eDaiwa Certate LT – Top functionality and strength u003cbru003eDaiwa Fuego LT – superb reel for around the $100 rangeu003cbru003eDaiwa Exceler LT – quality reel for under $100u003cbru003eDaiwa Procyon AL LT – New 2020 modelu003c/strongu003e
Is the Daiwa BG sealed?
u003cstrongu003eYes, the Daiwa BG saltwater spinning reel is water-sealed. As a result, its lifespan is increased and ensured. Also, its waterproof drag system makes it very smooth in all types of waters. u003c/strongu003e
Is Daiwa better than Shimano?
Shimano and Daiwa are both top-quality spinning reels and very similar in features. They can be better than each other from different points of view. It mostly depends on what kind of fish you are willing to catch. u003cbru003eu003cstrongu003eComparing the price and other factors, we prefer Daiwa over Shimano.u003c/strongu003e
Where are Daiwa reels made?
Daiwa first started their journey in Japan during the 1950s by making fishing reels. Now, it's a global fishing tackle brand selling its goods all around the world. u003cstrongu003eThey have production points in Japan, UK, and throughout the Far East.u003cbru003eLater in 2012, Daiwa's Scandinavian office was set up in Finland, Sweden, Denmark, and Norway in order to handle sales and distributions.u003c/strongu003e
What is Daiwa Digigear?
u003cstrongu003eDigi Gears are usually gears that are digitally cut on a CNC machine. Digi gears are digitally developed and create maximum performance and endurance for the reel. u003c/strongu003eBeing fixed in Daiwa's lightweight reels, a Digi gear transmits the power of the reel to the angler smoothly and perfectly.
Is the Daiwa BG Waterproof?
No, u003cstrongu003ethe Daiwa BG reel isn't waterproof. Nevertheless, the ATD drag system in it is waterproof. The remnant of the reel does have nice water protection. However, it isn't a good idea to plunge the reel into the water as it isn't designed to deal with it.u003c/strongu003e
Conclusion
If you make a list of the high-quality spinning reels, Daiwa BG will be in the top five or top three. It has earned people's trust and succeeded to satisfy them with its incredible performance.
Even though for some people the price might be an issue, but Daiwa BG is worth every penny of it. Also, fishing requires a strong and durable fishing rod and reel. If you buy cheap equipment only to find out that it's easily damaged, that won't be a great experience for you.
So, it's better to save up and buy a reel strong enough to withstand struggles against the larger fishes. And Daiwa BG does that effortlessly. Therefore, I definitely recommend Daiwa BG saltwater spinning reel for it's going to spend some good long time with you.