Fishing can be a relaxing outdoor time passing activity for you if you are truly ready to explore the thrills of the blue waters! It is like meditation if you can feel the joy and freshness it gives to your soul. If It's in Florida, your eye will spec nature's utmost beauty too!
The feeling of being an angler can be overwhelming. Fishing can make you feel how little life's problems are. So, do you want to take this exciting challenge and reward yourself with some mind-blowing days?
I am suggesting ten divine and amazing places for fishing in California where you can play with your dream. I'm choosing these places from the south and north California. So, you get to know places from both. You can enjoy a free time and fulfill your wish to become an angler!
Fishing in California
Fishing in Southern California
Here are a few spots in southern California you can check to have a wonderful time!
Laguna Niguel Regional Park
Laguna Niguel Regional Park is reputed for its scenic fishing experience. It's a small lake with an area of 44 acres. This place is one of the top-rated travelers and anglers. Around a million visitors come here to enjoy their time and to do some sport fishing.
Fishes to watch out for
Laguna Regional Park is famous for catching rainbow trout. Bluegill, carp, trout, largemouth bass, and catfish are commonly caught here. The biggest trout catch of this river is 15.5 pounds!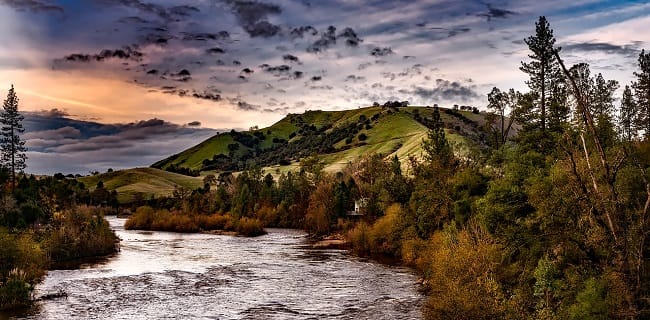 Lake Murray
Lake Murray is a reservoir in San Diego, South California. Lake Murray is one of the prime spots for fishing in southern California. People come here for fishing, hiking, kayaking. It's also famous for its birdwatching activities too.
Fishes to expect here
Lake Murray is the homeland for largemouth bass. Also, fishes like black crappie, channel catfish, and bluegill are quite common here. You can rent a boat for fishing here. Private boats are also welcomed here. You can also choose a canoe, kayaks, or float boats too.
Diamond valley lake
If you are quite a person and don't want to be disturbed while fishing, diamond valley will be a perfect place for you. It's very known for its isolated fishing experiences. It's situated at the Hemet in San Jacinto city. The like has a land of around 4600 acres with 260 feet average depth.
Fishes to watch out for
Locals say that it's alike for river monsters. You can try to catch a few monsters too if you are lucky! The common fishes seen here are panfish, bluegill, channel catfish, striped bass, rainbow trouts, etc.
Santa Monica Pier
Santa Monica pier is one of the famous piers in the whole of California. It is at the end of the western road of 66. You'll enjoy the urban life here. A lot of tourists visit here for fishing. With beautiful amusement parks, bars, and restaurants it will be a heck of a time here!
Fishes to look out for
Fishing in here is a great experience altogether! Fishes like the tiger sharks, perch, mackerel, white sea bass are mostly the common catch here. But if you get to catch the black sea bass, you need to throw it back in the water as it's endangered here.
Lake Gregory
Though it's an artificial lake, let me assure you it's one of the beautiful lakes you'll have ever seen. The 84-acre lake is situated in the Bernardino mountains in southern California. Fishing is a must-try sport but if you get the need for it you can also try basketball, sand volleyball, disc golf, and what not!
Fishes to watch out for
You can find every kind of fish around here like crappie, smallmouth bass, brown bullhead, koi, carp, and what not!
Fishing in Northern California
The Delta
The river delta is located in Northern California. Two of the biggest rivers form the delta. They are San Joaquin and the south-flowing Sacramento. It's a perfect spot for fishing and to lead a holiday. There are a lot of facilities not only for fishing but also for enjoying too.
There are happening so many festivals and events that there's always something going on to enjoy your holiday. They also hold a competition for anglers. So, you can also participate and show off your fishing skills!
Varieties of fishes
The delta has around 1000 miles of water! So, you can be sure to catch fish and make your day memorable. You'll find fishes like largemouth, red ear sunfish, channel catfish, trout, smallmouth, bluegill, salmon, steelhead, and what not!
Here are a few fishing spots in the delta where you can have set your eye on
Park Delta Bay
New Anchor Marina
Pittsburg Marina
Antioch Pier
Lake Cuyamaca
Lake Cuyamaca is also a perfect destination for fishing. It's a 110-acre lake in the Cuyamaca mountains. The mountains themselves will make your journey worth remembering. The scenic beauty always attracts tourists and anglers.
You can hire a boat, canoe or you can choose the areas which are suitable for land-based fishing. Fly fishing is also an option to make your fishing trip more exciting. Make sure to bring your fishing license with you. If you don't have it, then don't worry you can purchase it for $10 or less.
Varieties of fishes
Lake Cuyamaca is called to be the trout paradise in northern California! More than 38000lbs trout are stocked here annually. It's the only lake to have trout all over the year. This makes it suitable for fishing even in off-seasons. Fishes like Florida bass, smallmouth bass, rainbow trout, sturgeon, bluegill, and channel catfish are the main varieties that are available here.
Pillar Point Harbor
It's one of the preferred destinations for fishing. It's located in the northern part of half moon bay. Half moon bay is thought to be the prime spot for salmon fishing. Why don't you catch one for you too?
Available species of fishes
The water around here is so calm that many varieties of fishes and crabs are available here. If you come here for fishing, be assured of having a great experience altogether.
Fishes like starry flounder, sand sole, jacksmelt, Sharks, bullheads are available here. The pier also has a variety of crabs available. Like Dungeness, rock, and res crabs.
Boca and Stampede Reservoirs, Truckee
Boca and Stampede is a fun spot to choose for fishing. It's 27 miles southwest of Reno, Nevada. It's a complete holiday destination with a lot of options in one place. You can fish, horseback ride, go hiking or do recreational sports and staffs which are very popular here.
Fishes of Boca and Stampede Reservoirs
With a surface area of around 980 acres, it is stored with different varieties of fishes. Fishes like brown trout, rainbow, brook, kokanee salmon are very familiar here. So, don't get tensed about getting a bite on your bait! Come and be proud of yourself as an angler.
Lake Camanche
This lake has been voted best lake a couple of times. It's a place where you can come with your kids due to the number of events and festivals happen here all the year. The reservoir covers around 12 square miles area and has a shoreline of around 53 miles.
Varieties of fishes
Lake Camanche is famous for its large great bass. It is called to be the home of monster fishes. So, if you want to feel a heavy bite in your rod, take the challenge of lake Camanche.
60,000 pounds of trout are stocked here every year. So, catching a lot of trout is confirm here. Spotted bass, catfish, kokanee, bluegill, smallmouth bass, and rainbow trout are the main varieties here.
Conclusion
Every year thousands of tourists around the country and even some worldwide travelers come and enjoy the beauty of California. California is a place of nature's supreme beauty and a paradise for anglers when it comes to fishing.
After reading this you should have a clear idea about where to go fishing in California. However, we believe you may have further interest in it. To know more, you can leave a question for us in the comment box. We will get to you as soon as possible.
Have a nice day!