Wyoming is the 10th largest state and the least populated state of the USA. Surrounded by South Dakota, Montana, Colorado, Nebraska, Idaho, and Utah, this state is the home to 578,759 people (es.) (according to 2019).
Wyoming was the first state to allow women to vote and becoming politicians.
This state full of natural beauties like mountain ranges, islands, and basins. There is a ton of fun stuff to do in this state, like museums, hot springs, and most importantly, fishing. There are 4,200 lakes, 27,000 miles of rivers and streams, and 14 reservoirs.
Today we will be going through 10 places for fishing in Wyoming where you can go fishing.
Best Place For Fishing in Wyoming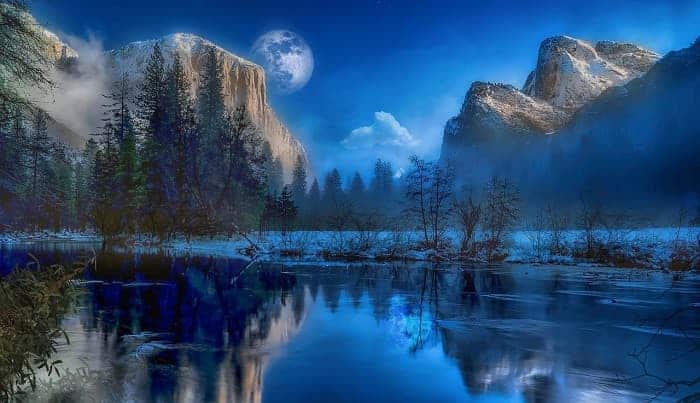 1. Bighorn Lake
Bighorn Lake is a reservoir which is situated behind Yellowtail damn in the northwestern part of Wyoming lake. Part of the lake also is being shared with Montana. The lake extends approximately 60 miles through Wyoming and Montana, 55 miles of which are held within spectacular Bighorn Canyon.
There are a wide variety of fishes available here, such as Walleye, Bass, brown and rainbow Trout, Yellow Perch, Carp, Catfish, Ling, Panfish, and Crappie. Bighorn lake has a large population of carp, which provides an opportunity for bow and fly fishing. A big tradition in Bighorn lake is ice fishing.
This tradition has been followed for over 40 years by many families in Wyoming and Montana. When you are fishing in Bighorn, make sure that whether you are in the Wyoming part of Montana part, and follow the rules accordingly.
2. Glendo Reservoir
Glendo reservoir is located in the east-central part of the state. The lake is formed by Glendo Dam, which contains two hydroelectric turbines capable of generating 38 megawatts of power. This 12,000-acre reservoir is famous for water sports and fishing.
There are plenty of camping sites, boat rental, boat launch ramp. Ice fishing is also popular in this place. Walleye, Crappie, Bass, Salmon, Catfish, Trout, and Sunfish are the primary fishes found in this lake. This place is ideal for both fly fishing, spin fishing, and boat fishing.
3. Grayrocks Reservoir
Grayrocks Reservoir is also created by a dam called Grayrock dam. This place is ideal for boating, kayaking, canoeing, and of course, fishing. More than 20 miles of shoreline offers fishes like Black Crappie, Channel Catfish, Freshwater Drum, Largemouth bass, Smallmouth bass, Tiger Muskie, Walleye, Yellow Perch, Waterfowl, Upland Birds, etc.
4. Two Ocean creek, Teton Wilderness
Two ocean creek is a mountain pass that is located in the Teton Wilderness, Wyoming. The most notable part of this pass is Parting of the Waters, where one stream is divided into two distributaries. Teton wilderness is a wilderness that is notable for being very remote where motorized vehicles are restricted.
So if you are an adventure lover, this is a place you want to visit. Many rivers flow down this wilderness which makes it a great place for fly-fishing. There are five species of trout, of which Snake River cutthroat trout is native. Utah sucker, Longnose dace, Redside shiner, Paiute sculpin, Mountain whitefish, Speckled dace, Mountain sucker, Mottled sculpin are some native species.
5. Flaming Gorge Reservoir
The largest reservoir in Wyoming is the Flaming Gorge Reservoir, which is formed on the Flaming Gorge Dam. Located in the southwest part of Wyoming, this lake is also partially located in Utah. Flaming Gorge is the most fun place for fishing as it has all kinds of fishing-related activities.
From boat fishing, angling, fly fishing to canoeing and kayaking, this lake offers all. As for the quality of fish, this place only offers the highest quality fish and record-breaking fish sizes. Lake trout, Brown trout, Rainbow trout, Kokanee Salmon, Smallmouth bass, and channel Catfish, etc are some species found here.
6. Pinedale
Pinedale is a small town located at the foot of Wind range mountains, Wyoming. Pinedale is a fishing paradise with some hallowed. The Green River and the River Fork are ideal for fishing, given their gentle drift for boat fishing and fly fishing.
Pinedale offers Colorado cutthroat, Mountain whitefish, and different varieties of trouts to those who come for fishing. Ice fishing is also popular in these parts. The Wind River Range is home to over 3,000 high-elevation lakes with stunning scenery.
7. Guernsey Reservoir
Created by the Guernsey Dam, the Guernsey reservoir is one of the significant pools on the North Platte River in Wyoming. Being located in the central-eastern part of the state in Guernsey State Park, the Guernsey reservoir has a surface area of 1400 acres.
The water level drops almost twice a year, affecting the population densities of the fishes. You can find species like yellow perch, walleye, bass, catfish, panfish, and crappie in this reservoir.
In the 30s, the Civilian Conservation Corps attempted to make this reservoir more attractive to tourists, building many picnic structures and viewing points, trails, water fountains, stone retaining walls, and bridges.
8. Yellowstone National Park
Filled with breathtaking wilderness areas, Yellowstone National Park has many public lakes and streams for a spectacular fly fishing experience. Yellowstone Park offers sprawling meadows, steep canyons, and steaming geysers where you can get a fishing experience unlike anywhere else, providing clean waters that are superb for fly fishing.
This park's temperature can give you many fishing opportunities for several kinds of trouts like the lake, rainbow, brook, and brown trouts, as well as grayling, mountain whitefish, and cutthroat. July and August are the peak times for fishing due to clean weather and recurring hatches in places like the Madison and Gibbon Rivers and Yellowstone Lake.
9. Jackson Hole
The town of Jackson Hole is another perfect choice for fly fishing. The Sanke River, which passes through the valley Jackson Hole, offers an ideal chance for Cutthroats and some brown trouts.
This river also runs through Grand National Teton park, which can provide you with fantastic scenery. The Hoback River and Granite Creek are very beginner-friendly for fly fishing. Gros Ventre River is situated farther from roads, making it perfect for a peaceful fishing experience.
10. Keyhole Reservoir
Keyhole Reservoir, considered an impoundment of the Belle Fourche River, was formed by the Keyhole Dam project of the United States Bureau of Reclamation, Which was completed in 1952. It is located in the northeastern part of the state in Pine Haven and 17 miles northeast of Moorcroft.
This reservoir has 9,400 acres of surface area and 53 miles of shoreline, making it excellent for camping, picnic areas, boating, and fishing. Available species include walleye, bass, panfish, catfish, and northern pike.
Conclusion
Wyoming is a fishing paradise for fishing enthusiasts. There are a lot of places for camping, boating, and fishing in Wyoming. But wherever you go, make sure you have a permit or a license. Be careful not to be in any danger and preserve nature. Most importantly, do not do anything illegal.