Today we will talk about how to keep fish alive after catching and how to preserve them well if they are dead.
Fishes decompose quickly after they die. So keeping them alive as long as you can is a good way to keep them fresh till you take them home to eat. Even if you want to sell them, you need to store them well. If you can keep them alive they will not decompose.
5 Ways to Keep Fish Alive After Catching
1. Use J hooks or circle hooks
Do not use treble hooks. They will wound the mouth of the fish more. As a result, the fish is more likely to die fast. Instead, use J hooks or circle hook. That will hurt the fish less. And you will be able to keep the fish alive for longer.
So, if you want to keep your fish alive, use circle or J hooks instead of treble hooks. If you want to buy J Hooks try Mustad UltraPoint Demon Wide Gap Perfect In-Line Circle 1 Extra Fine Wire Hook. You can find them at the 3$ price range on Amazon.
2. Keep the fishes in the water using a stringer
Fishes belong to water. They won't be able to survive on the surface for very long. You can keep them in the fish using a stringer. First, place the fishes in a stringer. Then keep that fringer in the water near where you are fishing.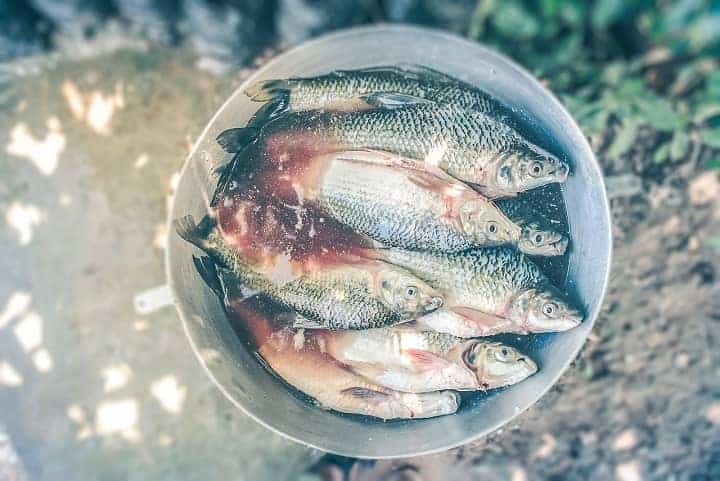 How to Keep Fish Alive After Catching
So that you will be able to keep an eye on them, and keeping them in the water at the same time not letting them loose.
Among all the stringers Hunter's Tail Fish Stringer is the best stringer. Go check them in amazon.
3. Use wired mesh basket
This one is one of my favorite. I like this way of keeping the fish more because you are creating a small aquarium in the fishing spot and keeping the fishes in that. Unlike the stringer option, by using a mesh basket you are allowing the fishes to move around a certain area.
There are various different wired fish baskets out there. Here are a few good ones that you can use. Go check them out on Amazon.
4. Use cooler
To store any food or anything that decomposes, using a cooler is always a good option. There are many types of cooler available for the fishes that you catch. Which fishing cooler should you choose? Well, that will depend a lot on where you are fishing, how far you are fishing, and how long you are going to fish.
We recommend using the Igloo BMX cooler. There are 3 variants of the coolers. They are 25 Quarts, 52 Quarts, and 72 Quarts.
5. Use a bucket
This is the simplest way to keep your fishes alive. If you do not have any stringer, wired basket to keep the fishes in the water or any cooling option, then this is the last way you can rely on.
Just take a large bucket, fill it with water. And then place your fishes in that water bucket. Depending on which fish you have caught and how badly they are wounded they can last a long time like that.
Though there is a limitation or disadvantage in this. You cannot keep a large fish in a small bucket for instance. You have to have a bigger bucket or any kinda pot to hold enough space and water in it. But if what you are catching can fit in it, then there should not be any problem.
Conclusion
So, now you know how to keep fish alive. I hope this will help you to store your fishes so that they won't decompose that soon. And if you keep your fishes any other way, tell us in the comment section.
Do you want a fishing rod suggestion?
Check out this post about the best fishing rod and reel combos article that we wrote.