If you are trying to ice fish, let me guess what you are most struggling with is digging a hole in the ice. Digging a hole mostly depends on what you are using to dig and what method you are using.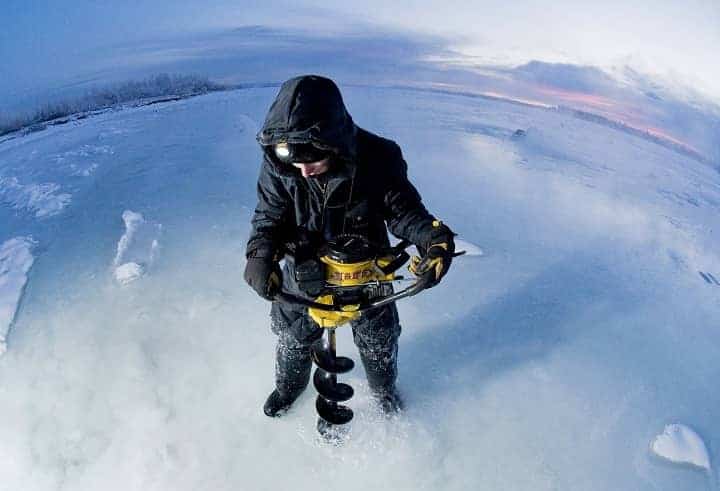 The best way to deal hole in the ice is to use an auger because it's the least time-consuming. But you also can use ice chisel, axes, chain saw, digging iron, etc. These take time, but effective nonetheless.
Before we go through the methods of digging, make sure you choose a place where ice is thicker than 4 inches. That will ensure your safety from going under the icy water.
How to make an Ice Fishing hole with Auger?
You can find auger in $30-$600 depending on what kind of auger you are going for. To dig a hole with an auger-
At first, choose a place to dig a hole. Use Vexilar to measure the depth of water or ask fishermen and locals about which places tend to freeze shallow than the others.
After choosing a place, choose an auger according to the thickness of the ice. If your auger is 4 inches thick, you can use hand augers, which takes a bit of time to dig. They are lighter.
But if you are planning to dig ices thicker than 4 inches than you need a power-auger which is heavier than the hand augers. They are easier to use and less time-consuming.
While digging, keep a wide stance. Use snow for batter traction to hold you upright when the ice breaks and water spray comes out.
Don't put too much downward pressure on the blade. Just enough pressure to break the surface of the first layer. Putting too much pressure only results in losing your footing and slowing down the process.
Make sure to clean the extra slushes to create a clear channel.
If you are planning to use the auger for multiple holes than clean the auger so that no debris or slushes remain on the blade. Keep the auger in a warmer place. Otherwise, digging holes will be slower with all the ice that is freezing on the blade.
What is the Best Ice Fishing Auger?
We recommend StrikeMaster MD-8 Ice Fishing Mora Hand Auger


How to make an Ice Fishing hole without Auger?
How to make an Ice Fishing hole with Axes?
If the thickness of your chosen place is 4-6 inches, you can use axes for digging the hole. The price of the axes starts at $35. To dig a hole with axes-
Use a safety goggle because working with axes can make ice shards fly at every angle.
Make an outline and start cutting through it rather than using the ax to dig haphazardly.
Rather than applying pressure, apply the ax methodically. In that way you won't lose command over the ax and hurt yourself, also you will save your time.
How to make an Ice Fishing hole with Ice chisel?
These are not very time-consuming for thicker ices and takes a lot of work too. You can find an ice chisel in $20-&30. To dig a hole with an ice-chisel-
Make sure your ice-chisel has a sharp edge and a handle on the top.
With the help of the top, start digging in a circular motion until the ice breaks.
After the outlines are chiseled deep enough, try hitting the block of ice with the chisel in the middle. If the block falls down, your hole is ready. If it doesn't, continue chiseling the outline.
We recommend Eskimo Chisels.


How to make an Ice Fishing hole with Digging Iron?
Digging iron bars can be used to break open the surface of the ice and also measure the thickness of the ice. But they take a little bit of your time and patience. You can dig a hole with it if the thickness of ice is up to 12 inches. The cost of these bars starts at $30. To dig a hole with a digging iron-
Choose an iron bar that has a sharp bottom and wrist sling attached on top.
Make an outline of the hole. Keep in mind to make a bigger outline than the size you want your hole to be. Because as you go deeper, your ice hole keeps getting smaller.
Try to maintain driving the bar straight against the ice.
Best way to make a hole is to start by chiseling and chipping the ice of the outline
How to make an Ice Fishing hole with Chainsaw?
We recommend Oregon CS1500 Electric Chainsaw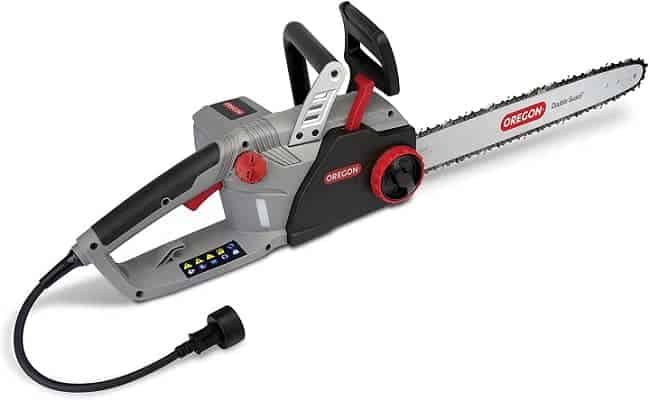 If you don't have an auger but you want to dig a hole in less time, chainsaws can come in handy for you. They can cost $37-$400, depending on which kind you choose. To dig a hole with a chainsaw-
Just use the chainsaw at a slight angle. 45 to 60 degrees is better to cut a straight line.
Put pressure while you are pushing the saw towards the ice, not while you are bringing it toward you. That will make an effective cut.
It's better to use waterproof clothing while using chainsaws to save yourself from scattering water and broken ices.
To avoid damage to the chainsaw, make sure to dry it as soon as you use it on ice to stop it from turning rusty.
These are the five easiest ways to dig an ice hole for your ice fishing. Be sure to secure your footing while digging. Enjoy ice-fishing more with these tips and tricks!
thanks to Mossy Oak