Ice fishing is an enjoyable pastime to do when you belong in a cold region. Ice fishing is the task of catching fish through icebergs. You can use spears or fishing hooks to catch fishes during your ice fishing. Ice fishing is less troublesome, and it is quite easy for beginners. In this article, you will be acknowledged about how to start ice fishing.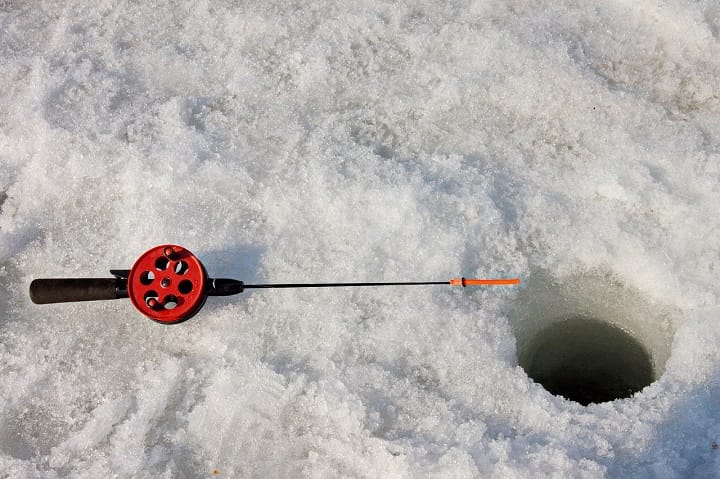 This total guide will be very suitable for you if you are a beginner at fishing. Ice fishing is very easy to work to do. If you're a fisherman, it will be easier for you. And if you are a person who has no previous knowledge about fishing, this place is just right for you to start. I am going to elaborate explain the detailed information about ice fishing. There are few things to keep in mind before you go for your ice fishing. Without any further delay, let's begin!
Types of ice fishing
There are many types of ice fishing. But if you want to know in short and if you're wondering about how to start ice fishing as a beginner, you need to know about the main three types. As a beginner, it's more than enough to know about these methods. Mainly, three different methods of ice fishing will serve you a lot during ice fishing. Those methods are Ice fishing with rod and lures, Using tip-ups, spearfishing.
With rod and lures
This is a very basic method of ice fishing. All you have to do is just collect lures or baits to attract your fish. A regular-sized fishing pole can be used easily for ice fishing. Coming to the baits, live baits are the best to use for ice fishing. But if you can't find any alive baits, artificial baits will work well too.
Using tip-ups
tip-ups are made of wood material or plastic material. You can catch comparatively larger fishes with this technique. This process is very easy for beginners. It allows you to catch fishes without using your hands frequently. This process is trouble less for everyone, from professional to a beginner.
Spear-fishing
The process of this fishing is cutting a hole through the ice and catching fishes. The fisher has to wait until the fish appears, and then he/she can catch it. This process is a well-known and popular process too. It has been being used for a long period of time.
What do you need to start ice fishing?
Before starting, the must thing that you need to know about is the tools that you will need. Without proper tools, your fishing day can be ruined. Nobody wants to come from fishing with empty hands. With proper ingredients and tools, the possibility of making your fishing perfect is really high. Let's know about some must-have tools for ice fishing:
Ice saw
These are mainly used for cutting holes inside the ice. You can't make a hole through the ice with a regular saw. This is a piece of must-have equipment while going for ice fishing. The tip of this saw is very sharp and effective to cut through ice. You can cut ices in oblong shape or oval shape with this saw. This is specially made to cut ice. It reduces every struggle of ice cutting.
Ice auger
For effective drilling through ice, you will need an ice auger. This tool can successfully drill through any Icebergs. It creates less vibration in the ice, so the fishes won't run away, hearing the vibrations. An auger produces well heat that can help an experienced Fisher. This is a special tool for drilling holes in the ice.
Skimmer
Even after creating a hole inside the ice, sometimes you may face snow to fill up that hole. To remove that snow, you need a skimmer. A skimmer is one of the most efficient ice fishing equipment. It can remove ice shavings from the ice holes. You can also use a skimmer to pick up baits from cans.
There are two types of skimmer: plastic and metal.
Metal skimmers are usually made of stainless steel. These are apparently heavier and expensive than plastic skimmers. Plastic skimmers are vastly used because of less weight. Plastic skimmers are easy to carry and use.
Moreover, these are very cheap compared to the metal ones. But we all know that plastics are not environmentally friendly. So, there is always a debate about which one is better. You have to choose the skimmer according to your need.
Ice rods
Ice rods are smaller than regular rods. Ice rods weight less than regular rods too. So you will need an ice rod for ice fishing. Ice rods are mainly used to catch fish through the ice. These rods provide many special features for a good fishing experience. This is the main equipment to get for your ice fishing. So you must get an ice rod for you before going on ice fishing.
Jigs
Jug is a type of lure used in fishing. This can effectively increase the chance of you catching fishes. If you are a beginner in ice fishing, you should always take jigs with you to make your day successful.
Chisels
After creating a hole in the ice, it can again block after time to time. A chisel is mainly used to reopen the hole that was created once. It is a very useful tool for ice fishing. It is also known as a spud bar. You can also use this to measure the length and depth of the ice. Measuring the ice's depth ensures your safety.
Fishfinder
It is another well-served tool for your ice fishing. By using this tool, you will be able to find fish very easily. As a beginner, it's quite tough to find fishes in the first place. A lot of things may distract you during fishing. But with a fish finder, finding a fish will be easier for you.
Sled
Sleds are mainly used for keeping all your equipment in a place together. This helps you to maintain your tools. If you keep your tools scattered around, you won't find any tools when needed. So, you have to buy a sled to organize your equipment.
Lures and baits for ice fishing
To make your ice fishing successful, you need lures and baits. The lures and baits that you require for ice fishing are different than usual fishing. Let's know about some of the lures and baits that can help you in your ice fishing.
Waxworms
Maggots
Fly larvae
Wigglers
Minnows
Artificial lures
How to Ice Fish? Step by Step Guide
After knowing the basic things about how to start ice fishing, you need a step by step guide to follow while fishing. Here is a detailed process for your ice fishing.
Step 1: choose the place
The first and foremost thing that you need to do is to choose the place where you want to go for your ice fishing. It's better if you choose a place near your house. Make sure to select the place where many people go fishing so that you don't fall into any risk as a beginner. Moreover, if you are going to an unknown place, you should take someone with you for the first time. It's better if you research about that place beforehand. Get a license for fishing before going fishing.
Step 2: Select your method
As a beginner, to make your fishing successful, you should always make sure about the method that you are going to use before starting fishing. Above I have mentioned the three main methods of ice fishing. You can choose from those three methods, or you can choose another one that you like. Choosing a method beforehand will increase the possibility of you catching a fish.
Step 3: choose the ice carefully
Before getting started, you have to choose the ice where you want to stand, and you want to make a hole for fishing. Always make sure that the ice you are standing on is stable enough to stay in the place. Otherwise, you may fall into the water and bring dangers. Always choose a block of ice that has well depth.
Step 4: Make a hole
This is one of the essential steps. Without making a hole, you cannot catch fish. Use proper equipment like an ice saw and ice auger to make a hole through the ice. Make sure the hole is deep enough to reach the water. You should bring a sharp saw and auger to make the hole. Check before leaving the house if the saw and auger are good to use or not.
Step 5: Place your pieces of equipment
This is the final step for you. After making the hole, all you have to do is just place other equipment like rods and fish finders inside the hole. Then wait until you can catch a fish. Fishes will come after being attracted to the lures that you showed to those. That's when you can catch it. That's all you have to do for ice fishing.
An additional step: Reopening the holes
Sometimes if the weather is snowy, your hole can be blocked after a while. You have to use ki skimmers or chisels to reopen the hole. This process is very easy yet so effective.
If you follow these steps properly, you will be able to catch a fish on your first attempt even if you're a beginner.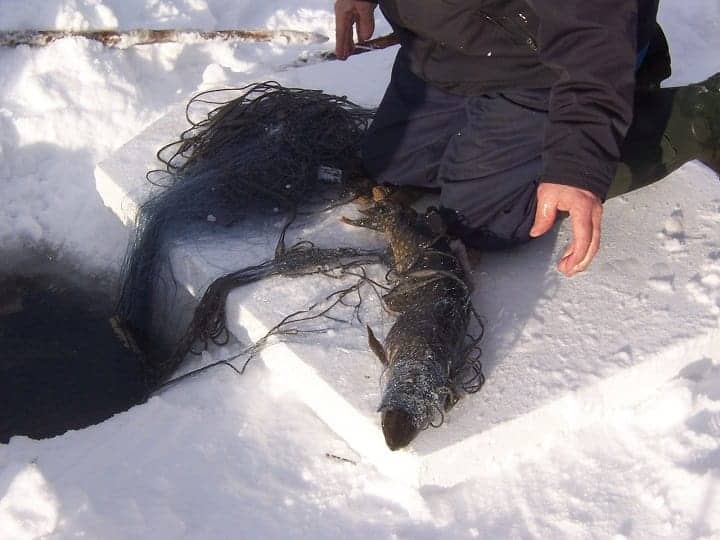 How can you make a hole through the ice?
To make a hole through the ice, you need the proper equipment. As I said above, an ice saw and an ice auger are the best tools to make a hole through the ice. You can make whole inside a block of thin or thick ice using an ice saw. And you can drill through it using an ice auger.
If you want to make a hole easily, it's better to use an ice auger. All you have to do is just hold it against the ice and wait for a few minutes. It will drill a hole for you in an easy way. It will keep drilling until you can reach the water. Ice augers can effectively drill through thick ice. The using process or an ice auger is very easy. But make sure to be careful of the blade. Otherwise, you might end up hurting yourself.
You can also use an ice chisel to cut through the ice. It is an effortless process too. The sharp edge of an ice chisel helps you to get your desired whole. Moving to another effective hole maker, an ice-saw. You can use an ice saw in the same way as an ice auger. The whole process of cutting through ice may sound critical, but it is really an effortless thing to do.
Few things to consider for a safe ice fishing
Now that you have known a lot of things about how to start ice fishing, you need to know a few things that you need to consider before going for ice fishing. Even though ice fishing is an enjoyable work to do, it can often be risky.
There might be storms or other trouble, which may bring tremendous damage. It's always better to be careful beforehand. Let's know some of the key points that you need to keep in mind before going on an ice fishing trip.
Depth of the ice where you will stand
This is a serious thing to consider before ice fishing. If you stand upon a block of thin and less deep ice, it can break anytime. Afterward, you will fall into the lake or water. It will bring you serious injuries.
Moreover, you may die if you don't know how to swim. Even if you know how to swim, swimming in ice water becomes nearly impossible sometimes because of the super cold water. The water is able to freeze your body. Be careful of this thing before starting your ice fishing.
Weather forecast of the day
Don't forget to check the weather forecast before going out for ice fishing. If there is a probability of a snowstorm, it's best to cancel your fishing on that day. If you don't check the weather update beforehand, you will fall into trouble if you go fishing, and a storm starts.
Gathering the right tools: not taking proper equipment can totally ruin your fishing day. If you want to avoid that from happening, be careful about the tools that you are taking. Check the sharpness of your saw and auger. Don't forget to recheck every tool.
Effectiveness of the tools
If your tools of fishing are not effective enough, your fishing will go in vain. As I mentioned above, check the sharpness of every tool wisely. Afterward, if needed, re-sharp the tools. Take an extra cloth to hold the sharp areas while fishing. Thus you can avoid any injuries caused by the sharp edges of tools.
Seat
You can often be out on the ice for hours so it is wise to take some kind of seat, some people use a 5 gallon bucket with a seat pad while others take more comfortable options, but a bucket is a practial option as it can be used to carry your gear and your catch. A bucket can also be used as a fishing rod holder.
Proper clothing
This is a must thing to consider before going on fishing. In the cold weather, if you don't take proper clothing, you might freeze. There's a huge possibility of catching a cold or even pneumonia in the bone wrecking cold over a block of ice. I am going to let you know which clothes you should take for your ice fishing after a while.
Fishing license
If your country requires a fishing license to fish, make sure you have it. Otherwise, you may fall into legal issues. It's always best to be prepared.
Ice fishing safety gear
You have to make your personal safety the most essential thing during ice fishing. A smaller distraction can bring bigger troubles. You have to wear a few different clothes while going for ice fishing.
Heavy clothes
Heavy and quality full clothes can save you from the cold weather and winds. Make sure to avoid cotton. Cotton materials can't protect you from cold weather or winds. You can wear polyester or wool made clothes to get better warmth.
Layers of clothes
t's always the best option to go for. When you wear a layer of clothes, you won't catch a cold. The layers of clothes won't let your body freeze.
Good leather Jackets
It's a must to get before ice fishing. Make sure that your jacket is actually made of leather. Leather jackets are very useful against cold weather. If you buy an expensive leather jacket, it can protect you against cold and windy weather during fishing.
Cap and muffler
To keep your head, ear, and neck warm, you must need a cap and muffler. Buy a woolen muffler to get a perfect warmth. You are more likely to catch a cold if your neck is uncovered in the cold for a little long time. A muffler can protect you from that.
Gloves
Gloves will protect your hand and fingers from freezing. If your fingers freeze during fishing, you won't be able to catch a fish. It's necessary to wear gloves before ice fishing.
Socks
Socks will work like magic for keeping your feets warm. Your feet are more likely to be cold because you have to stand on an iceberg during fishing. You have to buy proper woolen socks to keep your feet warm.
Boots
A leather booth can serve the needed warmth to your feet. Along with socks, boots are essential to keep your feets warm over ice. Always buy a good and effective pair of boots to maintain the temperature.
Why should you go for Ice fishing?
Ice fishing is an enjoyable hobby. You might feel bored inside your house during long winters. To remove the boredom of winter, ice fishing is a very enjoyable pastime for everyone. It can give you a whole new experience to remember in your lifetime.
If you're a beginner, you will still be able to catch fish in your ice fishing if you have read this article on how to start ice fishing properly. Ice fishing is so easy. That's why people love to ice fish. You will get introduced to new places during fishing. Ice fishing doesn't require much knowledge or tools to start, so it's very beginner-friendly. As it's a beginner-friendly pastime, you will love to do it.
The tools that are needed for ice fishing are very inexpensive. If you can gather enough knowledge, you can even go fishing without any single equipment. Though it requires experience, it's possible. Your whole family can enjoy ice fishing altogether.
Regular fishing can make the taste of the fish a little bit muddy. But if you catch fish by ice fishing, the fish taste great. There will be no algae plant type taste in the fish. This fact is scientifically proven that ice fishing can give you the opportunity to taste tastier fish.
Ice fishing allows you to preserve the fishes for a longer time. You can fish as long as you want without getting worried about the fish is rotten. You won't have to buy additional ice to keep your fish fresh.
Conclusion
Ice fishing is very entertaining if you live in one of the cold regions. It's super easy yet super fun. This fishing is cost-effective too. Overall, you can gather a great experience if you go ice fishing. The required tools are very simple and easily accessible. Moreover, the fishing techniques are effortless too. You can spend the winter in a much better way if you go ice fishing.
Now that you have known about how to start ice fishing, you will be able to fish anytime you want. Ice fishing is a great opportunity to enjoy the winter with your family or friends. It gives an exciting opportunity to face a new challenge. After catching fish on your own hand, you will feel another level of happiness that can't be overstated by words. So, go for your ice fishing with this information. You're going to rock your winter days!
Thanks to Popularmechanics