Ice fishing is one of the coolest thing you can do in the winter. And you need frozen lake or riverside for doing that. Now if you live in California and interested in ice fishing, you are at the right place.
There are many places where you can start ice fishing in California. We picked up the best spots for that and made a list for you.
Where can you go for Ice fishing in California?
Lakes in Northern California and South Lake Tahoe have some lakes that have deep enough snow to make them perfect for fishing. Some lakes are-
1) Ice fishing in Caples Lake
Caples lake is located in Kirkwood, California. It is alongside the Highway 88. It is one of the most famous lakes for ice fishing in winter. A few things about this lake-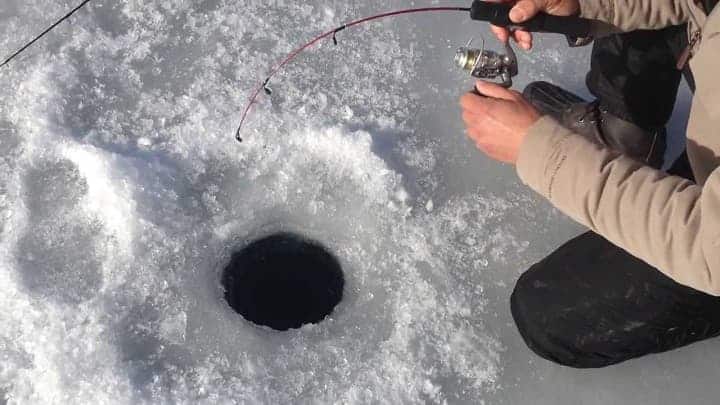 Five bags of trout per day is permissible here. For eastern brook trout, you can add up to 10 of them as long as they are less than ten inches.
The lake is famous for trouts. You will find all kinds of trouts here including brook trout, rainbow trout, cutthroat trout, and mackinaw trout.
The most common fishing styles in this lake are fly-fishing, ice fishing, jigging, trolling, and also spinning.
The most popular baits are Rapala ice jigs and glittering fishing bait eggs. Nightcrawlers are best if used as baits.
It has a resort if you want to spend your nights in the lake for late-night fishing. You can also go snowboarding and skiing when you are not fishing.
2) Ice fishing in Lake Davis
Lake Davis is in the middle of a forest. It's surrounded by conifers. The surface is elevated at approximately 5777 feet. The Good news is it's not popular for ice fishing. So, if you are searching for a quiet place for fishing, Lake Davis is the right place for you. What you should know about this lake for ice-fishing-
The fish limit for each day is 3. You can only take one fish home that is bigger than twenty-four inches. Fishes smaller than 15 inches are not allowed to be kept.
Lake Davis is known for its excellent fishes, such as Rainbow Trout, Brown Trout, Largemouth Bass, and Brown Bullhead. Some less known species are Black crappie, Brown bullhead, Kokanee, Largemouth bass, Pumpkinseed Sunfish, Rainbow trout, Signal crayfish, and Yellow perch.
It is not an ideal place for ice fishing for you if you are intolerant of cold. As cold frost makes sure, this lake thaws faster than other lakes. Also, early morning fishing is nearly impossible as the cold bite will freeze your body.
Salmon eggs and nightcrawlers are the best bait for this lake. You can use artificial salmon eggs called balls o'fire.
3)

Ice fishing in

Silver Lake
This lake is located in 2411 Glendale Boulevard, California. It is situated in one of the most expensive neighborhoods and also very popular for ice-fishing. More to know while ice fishing in silver lakes-
The lake has a "four fish regulation per day" for Statewide trout, salmons, and grayling, depending on various elements.
The lake has fishes like arctic grayling, brook trout, cutthroat trout, and rainbow trout.
Fly-fishing is a very good technique to use in this lake. The backcasting technique is nearly impossible in this lake because of a lack of space. Take a spinning rod and use the combination of fly and bubble technique for effective fishing.
The most used baits are "crippled hearing" and "glittering fishing bait eggs". Nightcrawlers are also successful as baits.
The lake doesn't have a much-updated camping site, but you can set up a tent or two for the time you are fishing at night.
4) Ice fishing in Red lake
This lake is located 40 miles away from Carson City. And because of elevation, this lake stays frozen longer than every other lake, making it convenient than any other lakes. Other things to know before ice fishing in Red lake-
This lake has a five trout per day limitation. No matter the size, more numbers of fishes can not be added.
This lake has fish species like eastern brook trout, Lahontan cutthroat, rainbow trout, and suckers.
This lake does not allow Spring Chinook Salmon fishing.
You can fish by boat, float by tube. If you like, you can also fish from shore.
Various fishing techniques are used in this lake. Dry fly-fishing goes well for some. Locals prefer fishing with sinking lines. Nymphs are considered as best if used with an indicator.
Nightcrawler, sugar-eggs glittering fishing bat eggs are best used as baits for this lake
5) Ice fishing in Boca Lake
This lake is located in Nevada County. It is an artificial lake. The lake freezes almost every year. More information on ice fishing in Boca reservoir lake-
The best baits for this lake are Nightcrawlers. Jigs and small spoons are best when using artificial lures. You should use power baits and worms while fishing from shore for the rainbow trouts.
You can find trout species like rainbow, brook, and brown trout. This lake is also famous for finding kokanee salmon.
Put on any tent or fire outside of predetermined campgrounds is prohibited in this reservoir, which makes ice fishing at night really inconvenient.
Jigging is the best-known technique in this lake for fishing kokanee salmon and rainbow trouts.
You can fish from the shore, which is the most effective way of fishing in this lake.
6) Ice fishing in Castle Lake
That lake is located inside the Mount Shasta. It is very popular among the locals and the people living in nearby neighborhoods. If you are planning to go for ice fishing in this lake, what you need to know is-
You can only take five fishes home each day.
Fishing for muskellunge, paddlefish, lake sturgeon, etc is prohibited in this lake.
This lake has a good amount of rainbow trout and also it is full of small-sized brook trout. The size of the trouts actually varies from ten to fourteen inches.
A good portion of warm worms will be good baits to the fishes here in winter. Nightcrawlers and salmon eggs are also good baits for fishing in this lake.
Spinning, fly-fishing are the most used techniques of fishing here. Even bait-casting is sure to get you lots of bites in this lake.
Overnight camping and camping in 200 feet of water is prohibited that might create issues in ice fishing at night or deep water fishing.
7) Ice fishing in Stampede Reservoir
This lake is located in the east (600 feet) of Donner Summit and fifteen miles north of Truckee. It freezes almost every year. More information if you are planning to ice fish in this lake-
This reservoir has a limitation of 5 fishes per day, no matter the species of fishes.
You will find fishes like brown trout and Kokanee trout. Also, you can find medium-sized rainbow trouts here. The kokanee salmon also considered a good catch for an angler here.
Nightcrawlers are the best live baits for this lake.
Anglers are known to catch twelve to fourteen inches of trout on a regular day.
There are some great spots for catching fish here. It's best if you follow the lead of the other fisherman.
If you are a fan of ice fishing at night, this lake might not be for you as camping outside of the campground is not allowed in this lake.
Cons of ice-fishing in California
Ice fishing in California has some negative aspects that you might want to look at before preparing for an ice fishing trip. Those cons are-
As California is a big state, moving from one lake to another is a very long journey. It's very time consuming.
The journey to the lake from your home can be quietly costly if you do not have your own car.
The roads might be blocked because of snow flow. Even though most of the roads leading to these lakes are plowed, there are still chances of getting stuck midway.
The weather in the area of the lakes is quite unpredictable even with the weather forecast, you have to prepare for emergencies.
Conclusion
Even though ice fishing in California can cause you some hassles, if you are a true ice fishing fan, you know the hassles are worthy of a beautiful day of chasing the fishes. These lakes will make sure you have a beautiful day of fishing with their natural scenarios. Try out these lakes for a bag full of fishes and enjoyable vacations.
Also, don't forget to be safe and follow all the precautionary steps before you start your ice fishing haul. Enjoy your little cold time in California heat in these lakes while being safe!