Ice fishing can be a relaxing outdoor time-passing activity for you if you are truly ready for adventure. If you are ice fishing in Michigan, your eye will spec nature's utmost beauty too.
"Fishing isn't an escape from life, but often a deeper immersion into it"

– Harry middleton
Best Places for Ice Fishing in Michigan
The feeling of being an angler can be overwhelming. Ice fishing can remind you how little life's problems are. So, do you want to take this exciting challenge and reward yourself some mind-refreshing days?
I am suggesting you seven places in Michigan where you can play with your dream.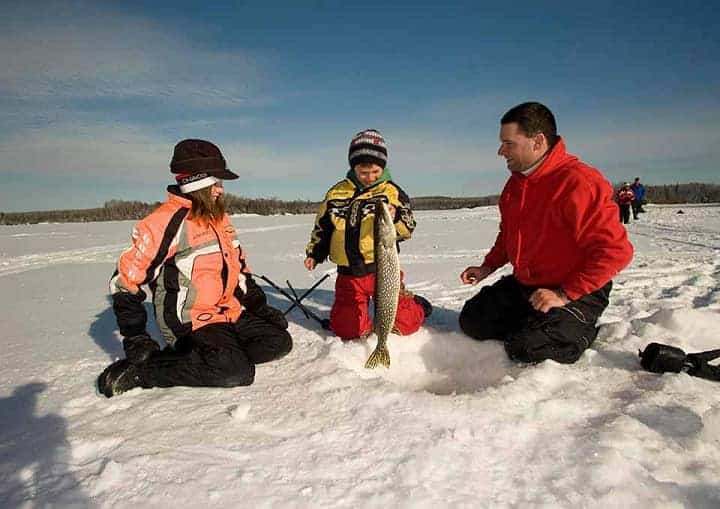 1) Hamlin lake
Hamlin lake is located 4 miles north of Ludington. It's a man-made lake backed up by the Big Sable River. The lake covers 4,990 acres (20.2 km2). This lake was originated when lumbermen dammed the Big Sable River to make a pond for the upstream trees.
So why should you go Ice fishing in Lake Hamlin?
Here are some reasons.
Ultimate fun destination
There's such a varieties of things to keep you entertained while you are at Lake Hamlin. You can ice fish here, canoeing, hiking and what not! Boredom is never a problem in here. You can have a ride with a boat and park the boat in the shore to sit beside a fire and have quality time.
Night fishing facilities
The cool nights in lake Hamlin brings out an opportunity to catch bucket loads of silvery fish such as trout, northern pike, muskie. Fishing in the night in Hamlin is a fun experience. As, water tends to cool off during the night many species like panfish, sunfish, yellow perch and small catfish is easy to catch at night.
Varieties of fish
If you go in lake Hamlin you'll find varieties of fishes such as Northern pike, Largemouth bass, Muskellunge, Smallmouth bass, Pumpkinseed, Tiger muskie. Gamefish have been stocked in the lake since the 1890s. You can find big giant gamefish too in here!
Public boating access
There are many arrangements for your recreation time. You can rent boat by the day or week. Pontoon boats,fishing boats all are available there.If you want to have trips on kayak, canoe and paddle boats you can have them too!
Camping area
The Ludington state park can be your preferred campsite in lake Hamlin. It has three wonderful campgrounds. One of them has campsite with a view of Hamlin lake. You will find appliances store, laundry rooms, fish freezers, convenience stores beside your campsite. In a word, Lake Hamlin's camping experiences relaxing and affordable.
2) Lake Michigan
Lake Michigan is one of the five Great Lakes of North America. It has surface area around 58,030 km and an average depth of 279 feet. It is the second-largest of the Great Lakes by volume, and the third largest by area.
Why you'll go Ice fishing in Lake Michigan?
People choose lake Michigan for its sheer size and the scenic beauty it possesses. With it's picturesque views with islands, beaches and the Escarpment lake Michigan has always been peoples favorite all around north America. It is called the "Third Coast" of the United States. Michigan is also home to the largest freshwater dune system in the world!
Fish varieties
Anglers often find lake whitefish, flathead cat fish, bowfin, lake trout, yellow perch, panfish, largemouth bass, smallmouth bass and bowfin, as well as some species of catfish.It's called to be the home of river monsters for it's big fishes.
Boating access Lake Michigan
There are more than 1,300 Michigan public boating access sites & 80 marinas, harbors administered by state. So, it's very easy to access the lake. You can rent a fishing boat,charter boat,canoe or a pontoon to cruise along in lake Michigan.
Campsite Lake Michigan
The campsite facilities are wonderful. You can rent a lodge, RV site, cabins or tent sites. You can find your night stay at the cost of $13 -$120. These campsite provides restroom, electricity, pools, boat ramp in short a smooth place to make your stay comfortable.
Night fishing in Lake Michigan
You can fish comfortably in the nights too! Fishing is fun, but if it is in the night the excitement and enjoyment riches at its peak. Using dock lights, guidepost light you can fish in the night too!
"It's a different world on a trout stream at night. You can become mesmerized by the sounds; the gurgling of the water, the buzz of cicadas, the songs of the frogs and the calls of owls or whip-poor-wills echoing eerily over the nights-cape."

–a trout guide.
3) Cass Lake
Cass lake is situated at the state Minnesota surrounded by Pike Bay township.It was named after the Michigan governor Lewis Cass. It is around 16 km long and 11 km wide.It is the eleventh largest lake in Minnesota.
Why should you go ice fishing in Cass Lake?
Fishing facilities in Cass Lake
You can find Carp, Catfish, Crappie, Largemouth Bass, Northern Pike, Smallmouth Bass, Sunfish, Walleye, Yellow Perch & gamefish in here. You can fish by boat,shore or in pier. Many suppliers are there to supply fishing equipment for you. It can be the fishing experience of your lifetime!
Camping facilities in Cass Lake
There are hundreds of camping site in Cass lake.These camp site has oak cottages, tent supplies,cabins and what not! You can make your reservations via online too to avoid the tension of finding a suitable place. This sites has hookup spots with water, sewer and electricity providing closest access to the lake and amazing lake views.
Boating details in Cass Lake
You can easily find are boats, Flathead boats, pontoons, jet skis also kayaks, paddle boards and peddle boats for rent as well! Reserving a rental is easy. You can rent a boat for half day to weekly. You can also rent handheld GPS for navigation.
4) Lake Huron
Lake Huron is bordered by Michigan and by the Canadian province of Ontario. It has a surface area of 59,588 square kilometres. It's max depth is around 750 feet. It is connected with Lake Michigan. It is mainly the easterly portion of Lake Michigan.
Why should you go ice fishing in Lake Huron?
Lake Huron is easy to find. It forms Michigan's mitten shape with Canada. It also has the longest shoreline among the Great Lakes. It is the the third largest by volume of water and second largest by surface area. The scenery of lake Huron is considered to be breathtaking!
Fish varieties in Lake Huron
It is considered to be the home of trout but walleye, lake sturgeon, yellow perch, smallmouth bass, northern pike, pumpkinseed and rock bass are also available here. Cold water fishes like lake trout, cisco, round whitefish and bloater is also available here.
Boating facilities in Lake Huron
Boating in lake Huron will be a experience you won't never forget. Resorts, marinas, outfitters offer boat rentals for ice fishing and different water sports. Paddle boat, motor boat, pontoon and many fishing boats are available there. Boat charters provides charter boats to explore the most beautiful places in the lake.
Recreations in Lake Huron
If you want to explore different water sports lake Huron is your place.There is a mini golf course to make your stay enjoyable. You can snorkel, kite board, windsurf, wakeboard, parasail and also scuba dive! Its not the end. You can also have water trampolines and water slides too! So, recreation won't be a problem in the lake Huron.
Camping facilities in Lake Huron
Camp sites here are decent sized surrounded by lots of trees. You can feel the nature around you which makes it more enjoyable. The campsite is close to township. You can find restaurants and other needs just beside your campsite.
5) Saginaw bay
Saginaw bay is located on the eastern side of the Michigan.It has an average depth of 27 metre.It is located in parts of Arenac, Huron, Bay, Iosco, and Tuscola.
Why should you go ice fishing in Saginaw bay?
Varieties of fishes in Saginaw bay
As saginaw bay is swallower and warmer than other lakes, fish varieties are different here. Walleye and yellow perch are primary sport species. Crappie, Largemouth Bass, Northern Pike, Smallmouth Bass, Sucker, Sunfish are also available here.
Services in Saginaw bay
There are many access points to Saginaw bay. You can pick any of them points and rent a chartered or fishing boat to cruise along the lake. You can find varieties of services, events and attractions throughout your stay here. Saginaw bay will impress you with small town charm and big city amenities.
Boating facilities in Saginaw bay
You can rent boats with advance equipment of fishing at a fair deal here! All purpose fishing boats, bass boats, bay boats, bow riders, cabin cruisers, cuddy cabins etc all types of boat are available here. You'll be in a dilemma of what to choose!
Night fishing in Saginaw bay
Fishing is usually very steady at night here. It's true that not everybody dares to go fishing when the mercury dips below the freezing mark. But many seasonal anglers do take the challenge. Are you ready for it?
6) Torch Lake
Torch Lake is Michigan's longest inland lake. The lake is about 17 miles northeast of Traverse City. The lake is 2 mile wide and has a depth of 285 feet.
Why should you go Ice fishing in Torch Lake?
It's known as the most beautiful lake in the world. Torch lake is blessed with crystal clear water. It is called the mini Caribbean because of It's water color turns green into gold to deep turquoise. With gorgeous sunset and stunning views across the lake,torch lake is more than just a beautiful lake.
Home of various aquatic sports
This paradise has a lot to offer for you than ice fishing. Ski boats, ski jets, canoes, paddleboard and windsurfing is also,very popular here. Ready to enjoy some splash and waves?
Camping facilities in Saginaw bay
Torch lake allows you to keep a natural vibe for your camping experiences too. You can camp just beside the lake and explore the night sky in the vast horizon. Whether you like to set up a tent or camp in the boat, Torch lake is an excellent place to camp.
Fish varieties in Saginaw bay
Anglers can expect to catch a variety of fish including Chinook Salmon, Brown Trout,, Lake Sturgeon, Rock Bass, Bass, Walleye, Yellow Perch, Splake, Northern pike here. Many resorts and companies will provide you fishing ingredients. You can have ice freezer too to store your catch.
Interesting aspects in Saginaw bay
Though torch lake is famous for it's turquoise waters, but it also has a legendary sandbar. The shallow sandbars at the south end attracts tourists all over America!
The surrounding towns are not only beautiful but also safe.This makes Torch lake a favorite destination for family trips. The neighborhood and people are very warm and friendly towards tourists.
There are a 4-5 restaurants beside the lake which serves delicious foods. So that you you won't have to think about the food at the time of your stay. They are affordable too!
7) Crystal Lake
Crystal Lake is located in Benzie County about 40 km southwest of Traverse City. Crystal Lake is also known as "Cap Lake" because of the frequent whitecaps visible on its surface. It has a surface area of 9854 acres and maximum depth of 165 feet.
Why you should go Ice fishing in Crystal Lake?
Public access in Saginaw bay
There are a few public access in the Crystal Lake. This is a place i would recommend you to go on a vacation in a rental. But, if you are planning to go there for a 3-4 hour stay Crystal place isn't your destination.
This lake is special because of It's limited access points. This allow it's to hold the natural look and remain peaceful. This can be your preferred honeymoon destination if you like to go on a quite place.
Available fish varieties in Saginaw bay
Northern pike, largemouth bass, bluegill, crappie, hybrid muskie, bullhead species, yellow perch is the varieties of fishes here. There is a fishing pier located on the north shore. Anglers also use west shore of the lake for fishing.
Camping arrangement in Saginaw bay
You can enjoy a great outdoor camping experience in Crystal lake. You can book a cabin, bunglaw, mounted tent, RV or caravan to sleep under the sky. There are kitchen facilities, bathrooms, recreational facilities to make your stay comfortable.
Rules of number of lines to used in Michigan
"As the following regulations are established for the number of fishing rods on Michigan waters: On all of the public waters of Michigan, those persons in the act of fishing shall be restricted to using no more than 3 single lines or 3 single rods and lines, and shall not attach more than six hooks total on all lines." quoted from the Michigan Government's website.
Conclusion
By now, you know about 7 best places for ice fishing in Michigan. If you are interested in Ice fishing, any of these places in Michigan can be your destination. To know more about these places, you are always welcomed to leave a query in the comment section. We will gladly provide you necessary information.