Ice fishing has become a prevalent and relaxing past time for millions of people across the world. Earl Dribbles Jr. said-
"When nothing is going right Just go fishing."

-Earl Dribbles Jr.
Ice fishing can remind you how little life's problems are. It can help you to relax and to do something new. The feeling of being an angler can be overwhelming.
So are you an angler?
I am suggesting you 5 places for Ice Fishing in North Dakota where you can play with your dream.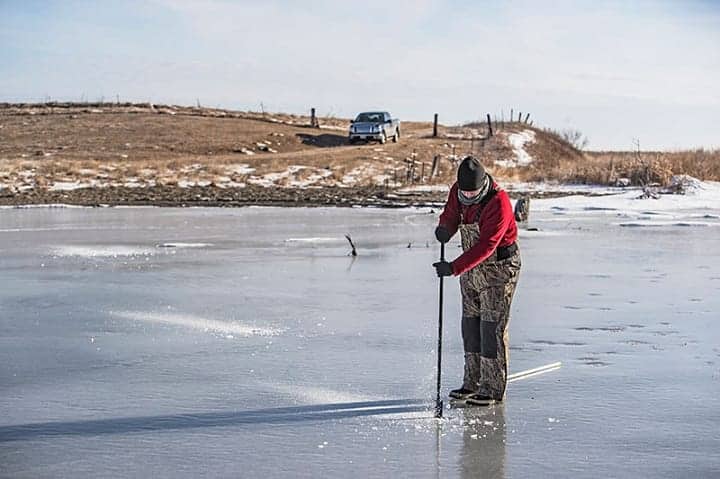 1) Lake Metigoshe
Lake Metigoshe is a state park located on Turtle Mountains, 14 miles northeast of Bottineau. This park has a vast land area of 1,500 acres, giving you a great fishing experience.
Why should you go to Lake Metigoshe for ice fishing?
Here are some reasons.
Largest Lake
Lake Metigoshe is the largest lake in Bottineau. When it comes to ice fishing, you will get a vast area for spreading your experience. It is an excellent place for exploring your summer and also your fishing interest.
Varieties of Fish
As we already know, it has a large water area full of different good sized fishes. The primary species and commons are bass, crappie, walleye, sunfish, perch, and pike. Not only this, for catching bluegill, crappie, and perch, you should put Lake Metigoshe at the top of your list.
Public Boating Access
If you are experienced in Ice fishing, you have already known that many lakes do not provide you the permission to use boats. But here you can use your boat for ice fishing. But here is a point. They do not offer boat rental services for the users.
Public Services
Ice fishing is not only about catching fish. It's all about enjoyment.
If you want to camp beside the lake, Lake Metigoshe has a camping site for that. They also have the service of RV Hookups, Boat Launch Ramp, Convenience Store, and Restaurant. But they don't have a boat rental service and Marina.
2) Lake Renwick
Lake Renwick is mainly a Dam located in Akra Township, Pembina County, North Dakota. It has 204 acres of water area for ice fishing.
The average depth of this lake is 7 feet and it has a shoreline of 5.0 miles. So it is a great option for ice fishing in North Dakota. Here are some points which make it best for ice fishing.
Why should you go to Lake Renwick for ice fishing?
Various Fish Species
If you are planning for ice fishing in Lake Renwick, it welcomes you with tones of fishies. Every corner of this lake is covered with Carp, Catfish, Crappie, Northern Pike, and Perch. It is a great lake for catching northern pike. You will also get good-quality Bluegills here. So what are you waiting for?
Breathtaking Scenery
The lake is literally green heaven. Nature with its wildlife is always ready for welcoming you. It removes the hustle and bustle of city life. So there is no doubt you are going to have a top-quality fishing time in the winter season here.
3) Lake Sakakawea
Lake Sakakawea is one of the biggest water reservoirs( an artificial lake) in North Decoda. It is located about fifty miles (80 km) from the state capital of Bismarck. This lake is about 2–3 miles (3–5 km) in width.
This large area contains a lot of varieties of fishies that make it a heaven for ice fishing. It is also the second-biggest man-made reservoir in America. So why you choose it as your ice fishing location?
Why should you go to Lake Sakakawea for ice fishing?
Never Ending Fishing Seasons
Lake Sakakawea is heaven for fishies. You will get fish in this lake every season. So winter or summer, it does not matter. It is open to recreational fishing year-round.
Fish Species
Here you can get 20 common fishes in the winter season. Chinook Salmon, Black Crappie, Brown Trout, Northern Pike, Walleye are some common ones.
Services
There are many agencies that provide various services in different seasons. So you can get all equipment like an ice house, heater, chairs, rods, reels, bait, etc for ice fishing in this lake.
Camping Area
Lake Sakakawea is best for camping with your family. You will get lots of resorts in this area like Indian Hills Resort, Dakota Waters Resort, 4 Bears Casino, etc.
15 Ice Fishing Safety Tips That You Must Follow
4) Devils lake
Devils Lake is a famous spot for ice fishing in North Dakota. It is the largest natural water reserver in the U.S state. This lake is located in Ramsey County and Benson County in northeastern North Dakota.
Devils Lake has an area of 17.95 km². So it is a big spot for ice fishing.
Why should you go to Devils lake for ice fishing?
Fish Varieties
Devils Lake has the same kind of fishes as Lake Sakakawea. So which thing makes it better than lake Sakakawea?
In this lake, you do not need previous experience for fishing.
In every spot of devil's lake filled with plenty of fishies.
You will get approximately 24 species of living fishes in this lake.
Brown trout, Northern pike, Smallmouth bass, Largemouth bass, Green sunfish, Pumpkinseed, Bluegill, Black crappie are some common ones.
Awesome places for Camping
Devils Lake offers lots of beautiful places for camping. This place also has a surplus of hotels with fish cleaning stations. You will get every option that fits your budget.
Long Fishing Season
Devils lake has a long season for ice fishing. Here Ice comes fast and takes lots of time for melting. But the safe season is from mid-December to late March. But this place is also great for fishing in Summer too.
5) Lake Audubon
Lake Audubon is a National Wildlife Refuge controlled by the government. It is located in McLean County, North Dakota. This lake is near the city of Coleharbor.
This lake has an area of 59.65 km². This lake has an average depth of 19ft. Lake Audubon has a shoreline of 152.8 miles. It is one of the great places for ice fishing. Here are some reasons which make it great for fishing.
Why should you go to Lake Audubon for ice fishing?
Fish varieties
If you want to have a dream-like day as an angler Lake Audubon can be a perfect place. You can expect varieties of fishes like Smallmouth Bass, Walleye and Yellow Perch, Tiger muskies, and what not!
Public services
The U.S. Army Corps of Engineers-Omaha District launched a new mapping platform so that you can easily locate ice fishing access points in Lake Audobon. Also, there are many agencies that provide trolley services, sightseeing steamboats, ice supplies as you demand.
Camping facilities
You can have an excellent experience if you were to camp in Lake Audobon. Beulah Bay Campground, Governors Centennial Loop Campground, Spanish Campground, Elbowoods Campground, Hazen Bay Campground can be your destination.
These places will impress you with their colorful stripes and with the combination of wind sand and water. Your outing with your friends,family and loved ones can have a cozy time on the trails.
Conclusion
By now, you should have a clear understanding of ice fishing in North Dakota. If you think these heavenly scenes and the chance of becoming a seasonal angler excites you, you can give it a go! North Dakota will surely amaze you with its beauty and experiences.
And if you want to know more, let us know in the comment section.
A special thanks to fishingduo.