Do you have a kid that loves to fish? Do they ask for fishing gear every chance they get? Well, if so then we have the perfect blog post for you. Here at Kids Fishing Guide, we help parents and kids alike find the best fishing equipment on the market. We've compiled some of our favorite products below!
Fishing is a recreational activity in which an individual or group fishes for species that can be kept alive and later released. It often provides an individual with a sense of success and is sometimes pursued as part of recreational or competitive sport.
While not the original purpose of fishing, it is a popular recreational sport that can be enjoyed by parents and children alike. Participating in this activity as a family provides opportunities for quality time to bond, while also teaching life lessons, such as patience and responsibility.
If you are a parent, it might be a good idea to take your children fishing, because it will give them the chance to spend some quality time with you. For kids, fishing is a fun activity that is both educational and entertaining.
Parents can teach their children the importance of patience while they patiently wait for a fish to take the bait or lure. It also teaches responsibility, as they are responsible for handling various pieces of equipment when out on the water, such as poles, hooks, and nets, in order to catch more fish.
Lastly, it provides them with an opportunity to enjoy nature, which helps instill appreciation in them at an early age. It's important not only to let kids experience different types of activities but also those that have been around since time immemorial, so this includes taking your child fishing!
Fishing Gear for kids
Fishing gear is a collection of tools that are intended to be used for fishing. Most often, the term refers to an angler's equipment. The most basic pieces of equipment are a rod and line, hooks, weights, and sinkers.
Fishing Poles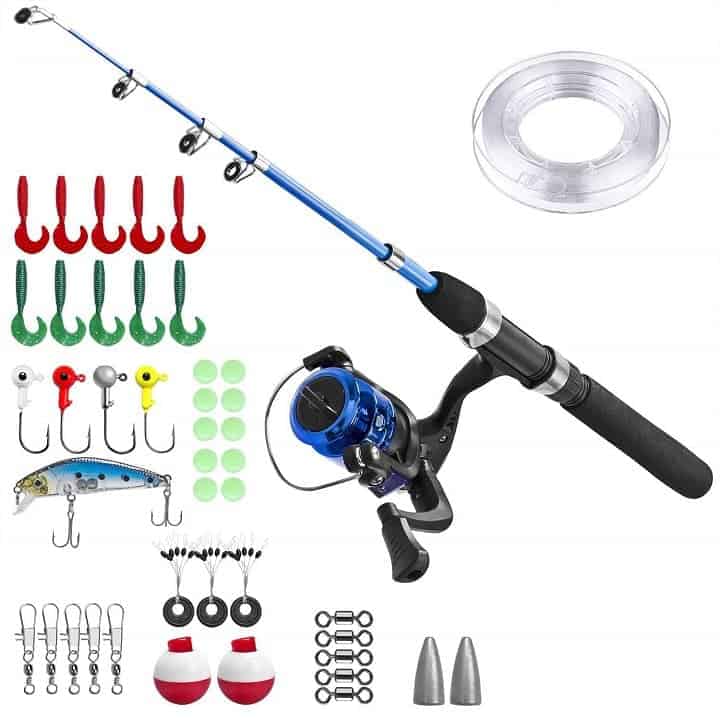 A fishing pole is a rod with an attached line, hook, and other terminal tackle used in fishing. Fishing poles are typically made of fiberglass, graphite, or composite materials. Fishing poles are used with fishing lines and hooks to catch fish.
These can range from a simple rod and line or telescoping pole with hooks on them. They provide a chance for kids to have some independence in catching their own fish, but having an adult nearby who has many years of experience will make it rewarding for both young fisherman and parent.
The best poles offer adjustable lengths, so they grow with your child, giving them more time to enjoy this sport. The only downside is that these types of rods may be made out of plastic, which means if you're not careful when bending, it could break.
Tackle Box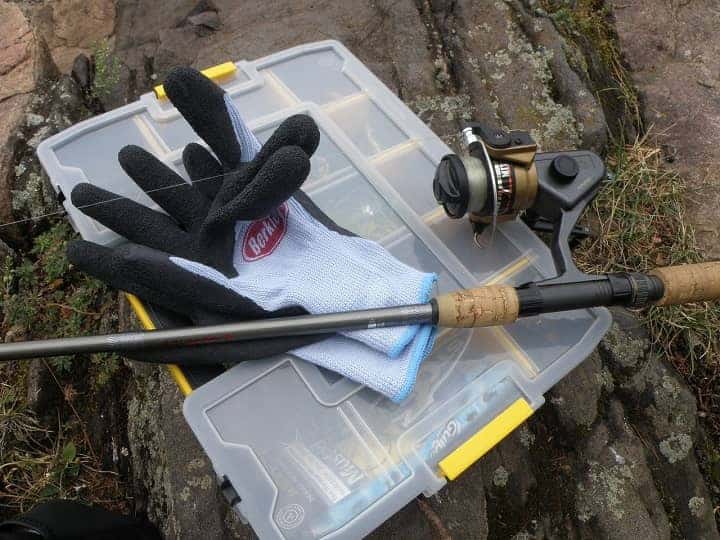 A tackle box is a portable, airtight container used for storing fishing equipment. It usually consists of one or more compartments fitted with hinged lids to keep small items such as hooks, swivels, terminal tackles, and lures organized and handy. Tackle boxes are typically made from metal or plastic containers that come equipped with assorted-sized holders, which can be adjusted to fit the size of corresponding baits, like fishhooks or other types of bait attachments.
In addition, they often have separate spaces where reels can be stored while not in use, along with areas designated for keeping things dry if necessary. Fishing tackle boxes make it easy to transport your supplies without losing any time on looking through drawers and containers to find what you need.
In addition, tackle boxes often come with pockets, holders or compartments for lures of different
Fishing Life Jacket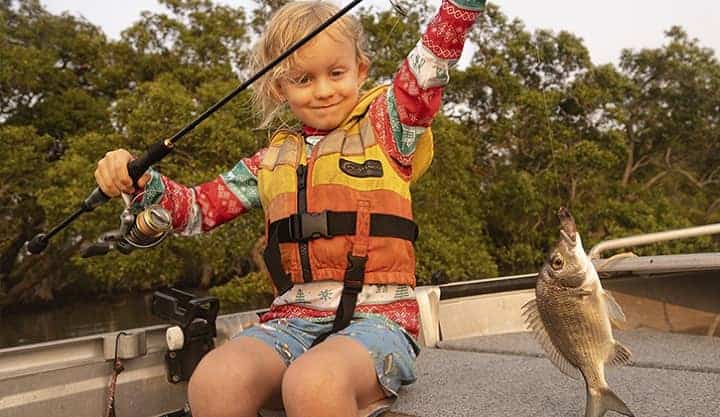 A life jacket is an important safety device, required for all children on a boat. This style of jacket has some added features that make it unique among others on the market.
The Fishing Life Jacket has a patented design that is different from others and offers an inbuilt flotation system that will keep your child afloat if they fall overboard or experience rough waves. The jacket also includes straps for holding it on securely, which makes this life jacket useful for kids to wear while fishing with their parents too!
Fishing Gloves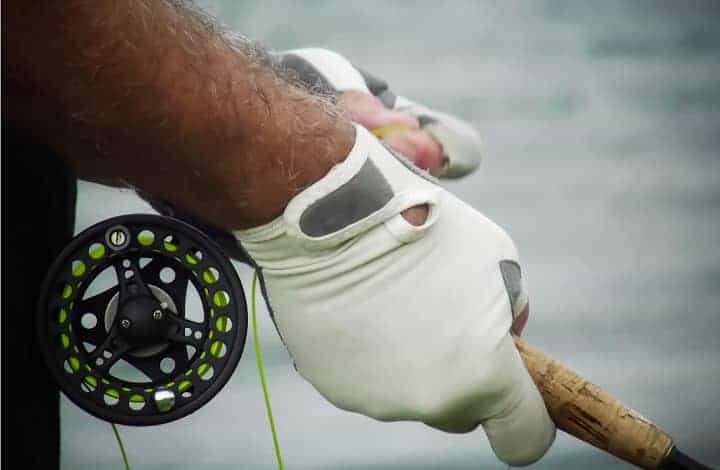 Kid's Fishing Gloves are designed for small hands to protect against hooks and sharp edges of fishing reels. They are made with a stretchy material to provide comfort in the hand, while also gripping the rod well. When choosing gloves it is important to get a size that is not too big or small.
Fishing Pliers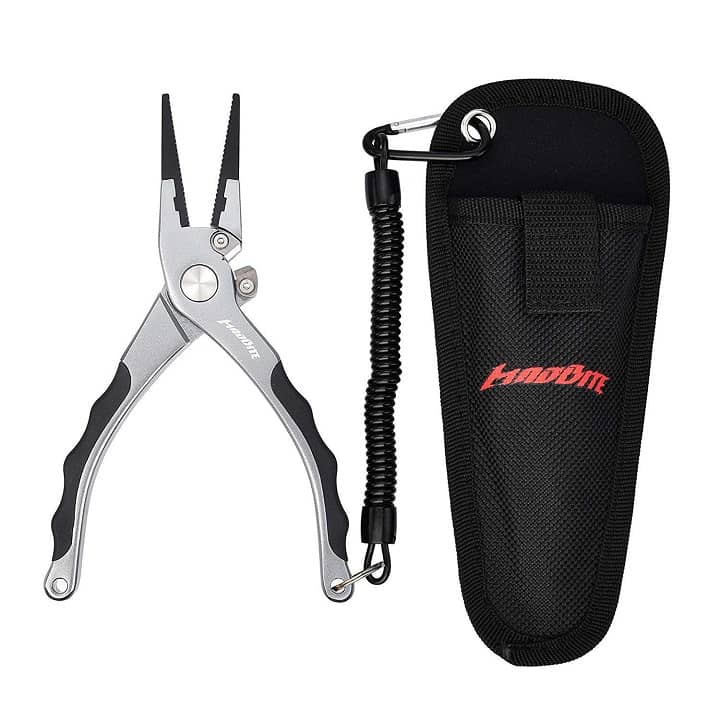 The kid's fishing pliers are a tool made for children with smaller hands so that they have an easier time catching fish and removing hooks. They are designed with a small head and soft-grip handle, which is perfect for kids since they need to be able to control the tool.
We have a great guide to the fishing pliers here. If you are interested, do give it a read.
Landing Net
A Landing net for a kid or child is a small net that can be used to catch fish. It is made out of nylon and has several mesh sizes. The different mesh sizes are designed so the fish will get trapped in the smaller mesh, and then be able to get trapped in the bigger mesh.
Do you need fishing net? Here is a guide to buy a great fishing landing net.
Lures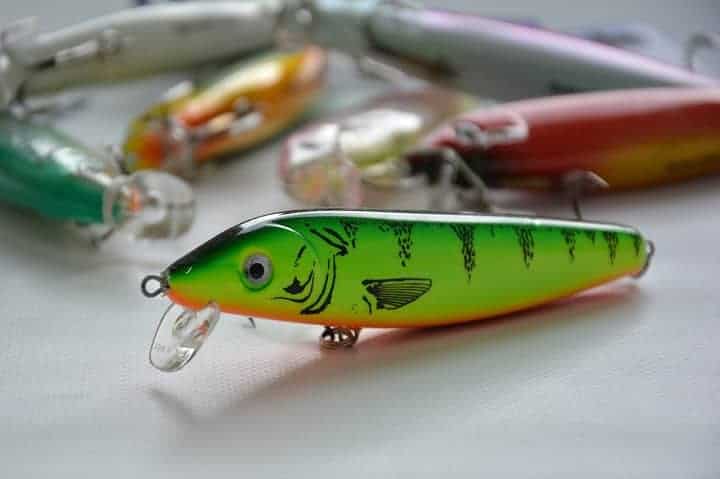 The Kids Fishing Lures are fishing lures designed for children. The lures, which resemble small fish, will float on the water's surface to attract fish. They are made out of plastic and come in many colors. The lures can be purchased as a single lure or a pack with several different types of fish.
Benefits Of Fishing With Kids
Fishing with kids is a great way to bond and spend quality time together. Fishing can also be educational for the children because it teaches respect, patience, perseverance, and responsibility.
Kids fishing is an activity that can be done anywhere, from the backyard to the ocean. In fact, there are even competitions for kids who fish competitively.
Kids learn the value of patience while waiting for fish to bite on their bait or lure. As a fisherman, you are able to enjoy your time with friends and family outdoors. The best part is that kids can learn about nature in an exciting environment that is less intimidating than traditional nature lessons.
Children's fishing is a sport that does not require any special or expensive equipment. All that is needed to get started in the hobby of children's fishing are some basic items which can be found at almost any local department store, as well as an interest to learn more about the sport.
Fishing is a great way for kids to learn where their food actually comes from. Not only will you be teaching them valuable life lessons, but they will also get the fun experience of catching fish and other sea animals!
What is a good age to take a child fishing?
Fishing is usually best for kids who are at least six years old. Children this age can be more attentive and have better motor skills to handle a fishing rod without hurting themselves. u003cbru003eThey also won't get bored very easily, even if they don't catch much on their first time out there!u003cbru003eThe best age to take a child fishing is when he or she can sit still for two hours, which usually happens by the time they are around six years old.u003cbru003eIf you wait too long, he might not be excited about going out on the lake with you anymore!
How do you make fishing fun for kids?
Explore the surroundings with your kid.u003cbru003eFocus more on your kid.u003cbru003eLet the kid choose a fishing spot.u003cbru003eLet your child choose fishing poles.u003cbru003eCelebrate and encourage when they catch something.u003cbru003eTake pictures with fish.u003cbru003eDon't release the fish your kid caught.