Kayak fishing has become more popular in recent times. A kayak is a small and slender watercraft. They are usually driven by the help of a double-bladed paddle. Kayaks are widely used as a means for fishing by many lake anglers.
out of all the things you need for kayak fishing, kayaks are the most expensive. So in order to get the best kayak you need to know what you are buying. Will it last long? Does it have the necessary features? Is it comfortable? Theae are just some of the thinks you need to find out.
Today we are going to talk about the Lifetime Tamarack Angler 100 Fishing Kayak. The features, specifications, pros and cons and why you should consider it for your fishing kayak. Also we will be answering some common questions about it.
Lifetime Tamarack Angler 100 Fishing Kayak
Lifetime Angler has come up with perfect sit-on-top fishing kayaks for anglers with multiple cool features. Now, of course, there are many good-quality fishing kayaks out there. And Lifetime Tamarack Angler is undoubtedly one of the top ones. Here are the reasons why it is one of the best.
This fantastic kayak for fishing doesn't only have all the necessary characteristics an angler needs to go fishing but also comes at an affordable price. Furthermore, it's suitable for both beginners and professional anglers.
It delivers just the comfort, durability, solidity, and safety you need. Let's take a look at the features and other additional details.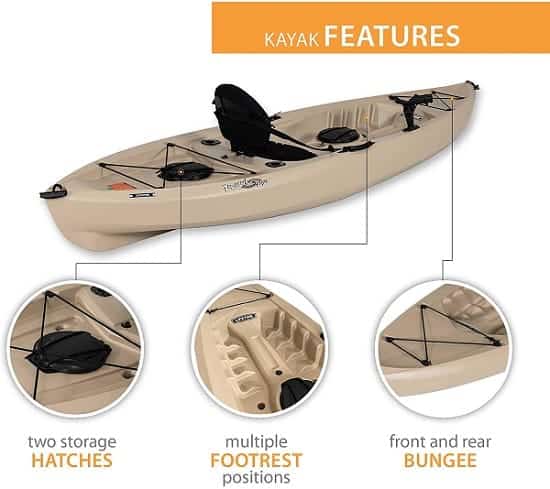 Features
UV-Protected High-Density Polyethylene Construction
Lifetime Tamarack Angler fishing kayak is a well-designed kayak. It's made with blow-molded and UV-Protected high-density polyethylene. This secures the kayak's strength, durability, and firmness. And yet the boat is very lightweight.
It also presents deep hull channels and stability chine rails that give you a stable ride. Besides, it has a splendid weight capacity of 275 pounds and a stable flat bottom.
The tamarack kayak possesses 3 fishing rod holders. 2 of them are Flush Mounted Fishing Rod Holders. The third one is Top Mount Fishing Rod Holder.
It has adjustable and comfortable padded seats. The seatback is padded and also there are seat pads for extra comfort.
Compared to the size and cost the tamarack kayak has a good storage capacity. There are two 6" round storage compartments in the boat. One is on the front side and another is on the back. They have lots of space which allows you to store your tackles and other small tools.
Multiple Footrest Positions
There are multiple footrest positions in the boat. It's for all kinds of riders. So, anyone can rest their feet in their own way.
Shock cord straps and paddle keeper
There are front and rear shock cord stripes included. Also, there is one paddle keeper with a bungee cord as well. In order to make transportation easier, there are also front and rear T handles.
Lifetime tamarack angler fishing kayak comes with a 5-year limited warranty.
Flexibility and Durability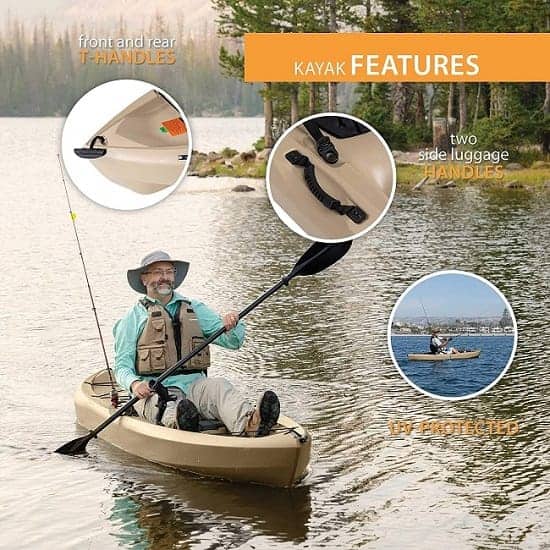 Tamarack Angler has impressed the fishermen with its flexibility. It's flexible that you can easily move by it in water from one place to another even if it's crowded shoreline water.
Besides, it's made with durable and high-quality materials. Which ensures the great durability of Lifetime Tamarack angler.

Specification of Lifetime Tamarack Angler 100 Fishing Kayak
| | |
| --- | --- |
| Type | Sit On Top |
| Model | Tamarack Angler 100 |
| Material | UV protected HDPE material |
| Overall Length | 10 ft |
| Overall Width | 31 inches |
| Weight Capacity | 275 lbs |
| Weight | 52 lbs |
| Fishing Rod Holder | 3 Fishing rod holders |
| Hull Material | Rotomolded Polyethylene |
| Storage | 2 Closed storage hatches |
| Seats | Padded |
| Warranty | 5 years |
Pros & Cons
Pros
Cons
Extremely lightweight compared to its size.
Easy to draw around.Extremely stable and durable design.
5-year warranty.
Three fishing rod holders and the hatches help carry important tools.
Sharp bow for the speed tracking.
Tracking skeg for straight paddling.
Available only in one color. No color varieties

Why should you buy Lifetime Tamarack Angler 100 Fishing Kayak?
Well, after talking about the specifications earlier and the pros and cons of it, it is self-evident that it's definitely one of the best kayaks for fishing. It's got all the necessary features a basic kayak should have and also is affordable for an average user.
So, if you are looking for a basic kayak for fishing then this will be perfect for you. With all the impressive features you surely will not regret this kayak. It's very suitable for spending your sweet time in the lake.
What is the best all-around kayak?
Lifetime Tamarack is undoubtedly one of the best-around kayaks. Here is a selection of the best of the rest:

Frequently Asked Questions
Are Lifetime kayaks made in the USA?
Yes, Lifetime kayaks are made in the USA. It is one of the largest kayak manufacturers in the USA. Lifetime and Emotions kayaks are manufactured in its plastics facility in Clearfield, Utah. it's the largest blow-molded facility in North America.
How do you know what size kayak to buy?
There are various types, sizes, and shapes of fishing kayaks. By choosing the perfect fishing kayak for yourself your fishing adventure will become more enjoyable. Not only that but it'll increase your safety in the river.u003cbru003eKayaks size range is generally 8 to 14 feet. u003cbru003eu003cstrongu003e8 – 10 feetu003c/strongu003eu003cbru003eIt is said that the shorter the kayak is the easier it is to move. They're perfect for beginners and kids. They are not suitable for tall people.u003cbru003eu003cstrongu003e10 – 11 feetu003c/strongu003eu003cbru003eThen there are 10 to 11 feet kayaks. They're still easy to function. Gives a little more space than the 8 feet kayak. These kayaks are typically designed for stability over speed. Ideal for beginners.u003cbru003eu003cstrongu003e12 – 13 feetu003c/strongu003eu003cbru003eThe next size is 12 – 13 feet kayaks. By size, stability, and speed they are most useful among all. Besides you get more space for your fishing gears. u003cbru003eu003cstrongu003e14 feetu003c/strongu003eu003cbru003eThe 14 feet sized kayak mostly moves straighter than a short kayak. It can be a nice choice for covering distances if it's narrow and built for speed. You'll find wider hulls here which can offer you stability for fishing.u003cbru003eIf you are taller, then you can choose the longer ones. It will be comfortable for you and you will find more space there.
Conclusion
If your target is an affordable kayak that is durable and strong then you can choose it without any hesitation. Lifetime Tamarack Angler 100 is extremely stable for its size that you can even stand while angling.
It may have a few cons but compared to its positive sides those can be ignored easily. It's really good at tracking. Besides, easy to draw because it's very lightweight. If you are looking for a long-lasting kayak at an affordable price, you should definitely go for it.